31/10/2017
16/05/2017
AirAsia to launch China joint venture
Image captionWill AirAsia end up buying some of the China-made Comac C919s when they come onto the market?AirAsia said that as well as running the airline, it would invest in aviation infrastructure and set up an academy to train pilots, crew and engineers.
There would also be new facilities to service and maintain aircraft in Zhengzhou, the capital of Henan province.
AirAsia already has a presence in China, flying to 15 destinations there, making it the country's largest foreign budget airline.
"China has been good to us and we want to give back in a big way, and this is just the start of an enduring partnership that will benefit both China and Malaysia," said AirAsia executive chairman Kamarudin Meranun.
He added the airline had "started exploring" the prospect of eventually buying Chinese-made Comac C919 planes which are currently in development.
05/05/2017
Most US homes have mobiles but no landline
27/04/2017
MP asks Facebook to tackle 'fake news' as election approaches
26/04/2017
Thai man kills baby on Facebook Live then takes own life
Image captionThe deaths took place at a deserted hotel in Phuket
A Thai man filmed himself killing his baby daughter on Facebook Live, before taking his own life, Thai police say.
The 21-year-old hanged his daughter, and then himself, at a deserted hotel in Phuket on Monday, reportedly after an argument with his wife.
Facebook sent condolences to the family for the "appalling" incident and said that the content had now been removed.
The company pledged a review of its processes after footage of a US killing stayed online for hours this month.
The footage of the Thai killing had also been available on video sharing website YouTube, but the company took it down after the BBC alerted it to its presence.
Social media anger
Relatives of the Thai man, Wuttisan Wongtalay, saw the distressing footage and alerted the police – but the authorities arrived too late to save him and his daughter.
In a statement, a Facebook spokesperson said: "This is an appalling incident and our hearts go out to the family of the victim. There is absolutely no place for content of this kind on Facebook and it has now been removed."
Reuters said two videos were posted, at 16:50 (09:50 GMT) and 16:57 on Monday, and were taken down at about 17:00 on Tuesday, roughly 24 hours later. Facebook has yet to confirm the times to the BBC.
Thailand's ministry of digital economy said it had contacted Facebook on Tuesday afternoon about removing the videos.
Ministry spokesman Somsak Khaosuwan told Reuters: "We will not be able to press charges against Facebook, because Facebook is the service provider and they acted according to their protocol when we sent our request. They co-operated very well."
YouTube said it had taken down the video within 15 minutes of being told of its presence by the BBC.
Its statement read: "YouTube has clear policies that outline what's acceptable to post and we quickly remove videos that break our rules when they're flagged."
Shortly before the BBC alerted YouTube, the video was showing 2,351 views.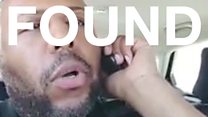 Thai social media users reacted with anger to the footage, while offering condolences to the family of the girl, BBC Thai editor Nopporn Wong-Anan says.
Devastated relatives of the child, including the mother, picked up the body of the girl and her father from hospital on Tuesday.
Following the US killing, Facebook said it was "constantly exploring ways that new technologies can help us make sure Facebook is a safe environment".
"We prioritise reports with serious safety implications for our community, and are working on making that review process go even faster," blogged one of its executives last week.
Separately on Tuesday, a court in Sweden jailed three men over the gang-rape of a woman in the city of Uppsala, 80km (50 miles) north of Stockholm, earlier this year and its live-streaming on Facebook.
One man was jailed for two years and four months, and another for one year, both for rape. The third was jailed for six months for posting the rape on Facebook and failing to report it.
---
Analysis: Leo Kelion, BBC technology desk editor
This latest atrocity comes less than a fortnight after a US man bragged on Facebook Live about his murder of a 74-year-old man in Cleveland, having also posted a video of the killing to the social network.
The platform's chief, Mark Zuckerberg, subsequently acknowledged he had "a lot of work" to do after it emerged the murder clip had remained online for more than two hours despite Facebook having received complaints in the meantime.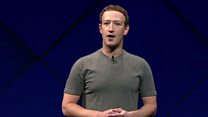 Prior to that, Facebook Live broadcast the death of a Chicago man who was shot in the neck and head last June, and then in July a woman streamed the death of her boyfriend after he was shot by police in Minneapolis.
There have also been reports of sexual assaults, animal abuse and teenage suicide having been shown.
For its part, Facebook is trying to find ways for its review team – which employs thousands of people – to react to such content more quickly.
In addition, the firm has developed software to prevent such footage being reshared in full on its service at a later point.
And it is also exploring the use of artificial intelligence to automatically flag videos and photos that need to be reviewed rather than waiting for other users to report them.
What it hasn't discussed is the idea of scrapping Facebook Live altogether.
With Twitter and YouTube, among others, offering rival live-streaming products, doing so could put it at a disadvantage.
But as a result, there will inevitably be further outrages and criticism because Facebook Live's popularity makes it all but impossible for the firm to keep a human eye over each broadcast.
25/04/2017
Driverless cars trial set for UK motorways in 2019
12/04/2017
Imax reveals European cinema expansion plan
Image captionImax presents 2D and 3D movies on screens larger than the norm
Imax has struck a deal to more than double the number of its large screens in European cinemas run by the continent's biggest operator.
AMC – which owns Odeon among other brands – plans to create 25 new Imax theatres over the next three years, about 10 of which will be in the UK.
Some will also be built in Germany, Italy, Spain and Scandinavia.
One expert said Imax had proved popular with those seeking a "premium experience".
AMC and Imax expect to jointly spend about $25m (£20m) on the expansion plan and will subsequently share the revenues.
"One of the things that has really frustrated me over my 23 years [in charge] has been our inability to properly penetrate Europe," Imax's chief executive, Rich Gelfond, told the BBC.
"Europe has been challenging because of its infrastructure – the theatres are smaller, they are dated and don't really fit the Imax specs, and the build-out [of new cinemas] has been slow.
"So, today is really a historic day for us."
AMC is making the investment five months after taking over Odeon and a month after its acquisition of Nordic Cinemas. The company is itself controlled by China's Dalian Wanda Group.
It is now engaged in a wider effort to upgrade its cinemas.
"One of the ways you get people not to watch a movie in their home or on their iPad is you offer them a 60ft [18.3m] screen," said AMC's chief executive Adam Aron.
"When consumers have so many choices… one of the smartest things we can do is put in more and more Imax or Imax-like experiences, because that is one of the long-term guarantors that people are going to still go out."
The initiative will bring the total number of Imax cinemas run by all chains in Europe close to 250.
However, that figure will still lag behind the 800 in existence or in development in China and the 350 in the US.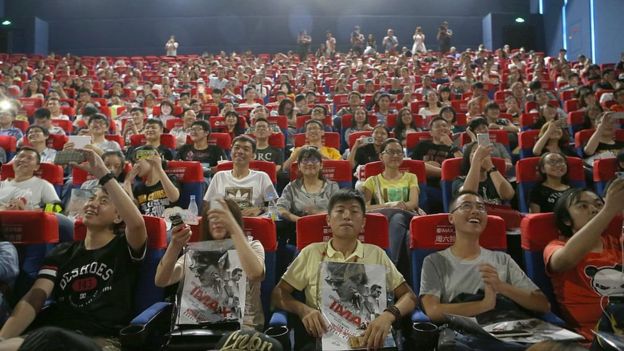 "Imax has already proven its worth in many countries, and wouldn't have built the brand it has, unless it had been able to attract the public," commented Robert Mitchell from the trade magazine Variety.
"The question mark is whether it will succeed in countries like Germany, where cinema attendance has been dropping for the last couple of years and [where] Imax only has a few screens at present, so is less well known."
Blockbuster films
Imax has developed a projection system that allows images to be shown on screens up to 100ft wide without becoming blurry.
It also offers filmmakers cameras that are able to capture higher resolution footage than normal.
Directors including Christopher Nolan and Michael Bay are fans, but the tech is normally restricted to blockbuster projects because of the additional costs it incurs.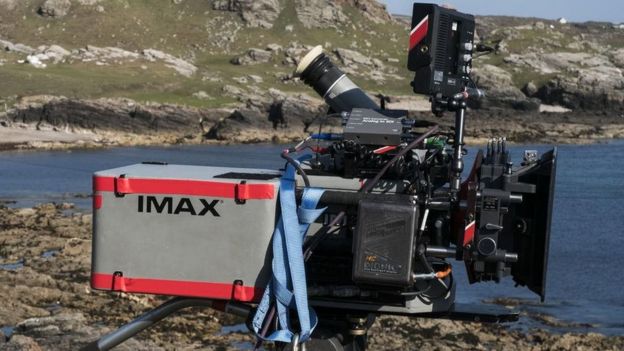 In addition, Imax offers software to convert footage shot with normal cinema cameras, and has developed a proprietary sound system for its theatres.
It faces competition from other large-screen formats including Dolby Cinema, RealD Luxe and an in-house effort from AMC.
Marvel exclusive
To help distinguish itself, Imax recently announced plans to start screening original content unavailable elsewhere.
The first "exclusive" is a deal to show the first two episodes of a forthcoming Marvel TV show – The Inhumans – in September, several weeks before they come to television.
"Other companies like HBO went from Hollywood-content only to original programming," Mr Gelfond explained.
"We're following in those footsteps and thinking: why not bring a great original content experience at a slower time of the year?"
In addition, Imax recently launched a standalone virtual reality centre in Los Angeles and will shortly open different versions of the concept attached to cinemas in New York and London.
Members of the public pay to try out short experiences using StarVR headsets, which offer a wider field-of-view than rival tech.
The firm already offers content linked to the movies John Wick, Star Wars and The Walk, and has struck a deal with Warner Bros to create new experiences based on its DC superhero films.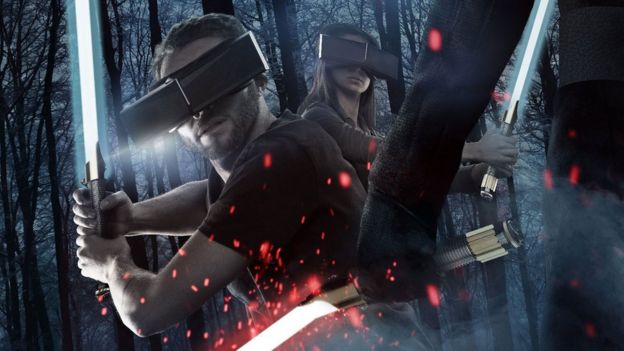 Mr Gelfond said he hoped that this would attract Millennials – those born after mid-1990 – who had proved harder to attract to cinemas than older age groups.
But he acknowledged that it was early days for the tech.
"We are starting with about five to 10 VR centres that will all be open this year," he said.
"We'll look at the results. If they look good we'll build it out at a much more significant way.
"And if they don't we'll have not lost much."
22/03/2017
eBay launches guaranteed three-day delivery in US
17/03/2017
Russia denies Yahoo hack involvement
15/03/2017
Facebook, Twitter and Google grilled by MPs over hate speech
Image captionYvette Cooper read out abusive tweets from a user's account to the committee.Ms Cooper said she had personally reported a user who had tweeted a "series of racist, vile and violent attacks" against political figures such as German Chancellor Angela Merkel and London Mayor Sadiq Khan, but the user had not been removed.
Nick Pickles, head of public policy and government for Twitter in the UK, said the company acknowledged it was "not doing a good enough job" at responding to reports from users.
"We don't communicate with the users enough when they report something, we don't keep people updated enough and we don't communicate back enough when we do take action," he said.
"I am sorry to hear those reports had not been looked at. We would have expected them to have been looked at certainly by the end of today, particularly for violent threats."
When the BBC checked the account after the committee session, it had been suspended.
BBC investigation
Ms Cooper said she found none of the responses from the executives to her questions "particularly convincing".
She added: "We understand the challenges that you face and technology changes very fast, but you all have millions of users in the United Kingdom and you make billions of pounds from these users, [yet] you all have a terrible reputation among users for dealing swiftly with content even against your own community standards.
"Surely when you manage to have such a good reputation with advertisers for targeting content and for doing all kinds of sophisticated things with your platforms, you should be able to do a better job in order to be able to keep your users safe online and deal with this type of hate speech."
Facebook's Simon Milner admitted that a BBC investigation last week into pictures of children on the platform showed that the company's system "was not working" – but said it had now been fixed.
BBC News had reported 100 posts featuring sexualised images and comments about children, but 82 were deemed not to "breach community standards".
When journalists went back to Facebook with the images that had not been taken down, the company reported them to the police and cancelled an interview, saying in a statement: "It is against the law for anyone to distribute images of child exploitation."
Mr Milner said the report had exposed a flaw in its content moderation process.
But he said the content flagged up had since been addressed, reviewed and taken off Facebook.
14/03/2017
California mulls driver-free car tests
13/03/2017
Image captionTraditional Captcha checks ask people to read wobbly textThe puzzles present challenges that people find simple but computers can find more difficult, such as:
identifying photographs of dogs in a gallery of animal pictures

typing numbers from a photograph of a road sign into a box

listening to somebody reading out numbers over music and typing the numbers into a box
The puzzles also benefit companies such as Google by helping train artificial intelligence algorithms. For example, if Google's AI can not recognise a house number in a photograph taken by a Streetview car, it may add the photo to its Captcha system to get human input.
However, genuine users can find the interruption by puzzles a nuisance.
Google's reCaptcha system has already simplified the process by asking users to tick a check box on the website they are using. The box monitors how each person has interacted with it, to separate natural human clicks from bots.
For example, an automated script might take just a second to fill in a form on a website, and may not move the mouse at all during the process.
Google's latest development removes the check box as well, and instead analyses how people have interacted with other elements on a website such as the "submit form" button.
However, in some cases "suspicious" activity will still trigger a puzzle.
10/03/2017
Wikileaks is offering tech firms CIA files first
09/03/2017
Apple, Samsung and Microsoft react to Wikileaks' CIA dump
Image captionThe CIA is alleged to have found a way to record conversations near to Samsung smart TVsSamsung – whose F8000 series of televisions was reportedly compromised via a USB connection-based hack co-developed with the UK's MI5 agency – was briefer.
"Protecting consumers' privacy and the security of our devices is a top priority at Samsung," it said.
"We are aware of the report in question and are urgently looking into the matter."
The leaks also claimed that the CIA had created malware to target PCs running Microsoft's Windows operating system.
"We are aware of the report and are looking into it," a spokesman from Microsoft said.
The documents said that the CIA had also created "attack and control systems" that could hijack computers powered by Linux-based software.
"Linux is a very widely used operating system, with a huge installed base all around the world, so it is not surprising that state agencies from many countries would target Linux along with the many closed source platforms that they have sought to compromise," Nicko van Someren, chief technology officer at The Linux Foundation told the BBC.
"[But] rapid release cycles enable the open source community to fix vulnerabilities and release those fixes to users faster."
Google declined to comment about allegations that the CIA was able to "penetrate, infest and control" Android phones due to its discovery and acquisition of "zero day" bugs – previously unknown flaws in the operating system's code.
The World Wide Web Foundation – which campaigns for internet privacy – said the US government needed to issue a detailed response.
"Governments should be safeguarding the digital privacy and security of their citizens, but these alleged actions by the CIA do just the opposite," said the organisation's policy director Craig Fagan.
"Weaponising everyday products such as TVs and smartphones – and failing to disclose vulnerabilities to manufacturers – is dangerous and short-sighted.
"If these new assertions prove true, we call on the Trump administration and other governments to stamp out such practices."
'Incredibly damaging'
The CIA has not confirmed whether the documents – said to date between 2013 to 2016 – are real.
But one of its former chiefs was concerned by their publication.
"If what I have read is true, then this seems to be an incredibly damaging leak in terms of the tactics, techniques, procedures and tools that were used by the Central Intelligence Agency to conduct legitimate foreign intelligence," ex-CIA director Michael Hayden told the BBC.
"In other words, it's made my country and my country's friends less safe."
But one expert said the fact that the CIA had targeted such a wide range of technology was no surprise.
"The story here isn't that the CIA hacks people. Of course they do; taxpayers would be right to be annoyed if that weren't the case," blogged Nicholas Weaver, a security researcher at the International Computer Science Institute in Berkeley.
"The CIA's job, after all, is [to] collect intelligence, and while its primary purview is human intelligence, hacking systems interacts synergistically with that collection.
"The actual headline here is that someone apparently managed to compromise a Top Secret CIA development environment, exfiltrate a whole host of material, and is now releasing it to the world… now the world wants to know who, and how, and why."
---
Embarrassment factor – Analysis by BBC's security correspondent Gordon Corera
These latest leaks – which appear to give details of highly sensitive technical methods – will be a huge problem for the CIA.
There is the embarrassment factor – that an agency whose job is to steal other people's secrets has not been able to keep its own.
Then there will be the fear of a loss of intelligence coverage against targets who may change their behaviour because they now know what the spies can do.
And then there will be the questions over whether the CIA's technical capabilities were too expansive and too secret.
Because many of the initial documents point to capabilities targeting consumer devices, the hardest questions may revolve around what is known as the "equities" problem.
This is when you find a vulnerability in a piece of technology and have to balance the benefit to the public of telling the manufacturer so they can close it and improve everyone's security with the benefit to the spy agency of leaving it in place so it can be exploited to collect intelligence.
The National Security Agency faced questions about whether it had this balance right when many of its secrets were revealed by Edward Snowden, and now it may be the CIA's turn.
03/03/2017
Can technology solve Chicago's gun crime problem?
Image captionThe police are sent real-time information about the exact location of gunfireNearly 100 US cities are now using ShotSpotter – but, despite its success, some remain unconvinced.
Dover, the second largest city in Delaware, for example, has said the $195,000 annual cost could be better spent elsewhere.
Quincy in Washington and Charlotte in North Carolina have also decided the technology is not for them.
Serious criminals
But ShotSpotter chief executive Ralph Clark said some of the cities that have signed up have seen a 35% year-on-year drop in gunfire.
"We are seeing thousands of incidents," he told the BBC.
"These are not homicides or woundings, but they are still serious crimes.
"These gunshots are not coming from thousands of people messing about, we are finding that it is from a few serious criminals – the authorised shooters in gangs who are using it to intimidate people, protect their turf."
"The biggest lever in reducing gun violence is to de-normalise it, and people are now seeing the police respond to these incidents, and they can see that the police are serving and protecting their communities."
Heat list
Three years ago, Chicago made a $2m investment in a predictive policing algorithm, which calculated potential victims of gun crime based on two variables, including how many times they had been arrested with others who later became gun crime victims.
Developed by the Illinois Institute of Technology, the system generates a heat list of people most likely to kill or be killed.
But according to a recent report from non-profit organisation The Rand Corporation, the investment has had little effect and simply means those on the watch list are more likely to be arrested.
The Chicago Police Department countered that the report did not represent the prediction model as it currently worked and denied the system was deficient.
Threat level
Fresno Police Department, in California, recently tested software known as Beware – which sifts through address-specific public data and individuals' public postings to Facebook, Instagram and Twitter – to alert first responders on the way to a 911 emergency call.
The platform, built by security company Intrado, colour codes people's threat level as green, yellow or red.
But one member of the city council told the Washington Post that his threat level was yellow, due to a previous occupant of his address.
"Even though it's not me that's the yellow guy, your officers are going to treat whoever comes out of that house in his boxer shorts as the yellow guy," he said.
The software proved too controversial, and in April the council decided not to renew its contract.
Wicked problems
Rob Kitchin, an expert on smart cities from Maynooth University, Ireland, said: "There is this idea that technology can solve the problems of a city.
"People are treating cities as if there are technical systems, and you can pull a data lever and it will steer a city.
"But cities are much more complex – full of politics, culture, community, and wicked problems.
"Cities have to look at the problem and decide what solution is best.
"If it is technology, then great, but it could be economic investment or a change in social policy."
24/02/2017
Google's self-driving firm sues Uber
23/02/2017
Tomorrow's cities – nightmare vision of the future?
Image captionWe may not be cyborgs yet, but many of us are already plugged into the network via wearablesIf our cities are getting increasingly plugged into the network, then so are we.
Wearables that measure all kinds of things from body temperature, hydration levels, heart-rate and sleep patterns are commonplace.
And the data we collect can reveal interesting insights about how our lives, day and night, impacts our health.
Fitness band provider Jawbone compared the sleep data of one million users around the US and found that city residents tended to get far less than those in rural or suburban areas.
It also found that people living in the Brooklyn area of New York went to bed the latest while those in Maiu, Hawaii, had the earliest bedtime.
"Our sleep cycles adapt to the pace and lifestyle of the world we live in and the world by which we are surrounded – which can be much more hectic, fast-paced and full of nightlife entertainment in major cities," the report said.
Meanwhile, a recent study from Microsoft mined data from 75 million keystrokes and clicks on Bing from more than 30,000 individuals wearing a fitness device.
---
---
The research found that those who were busiest during the day, based on their Microsoft calendars and search activity, slept worse at night and those who slept less than six hours for two consecutive nights were sluggish for the next six days.
The trend towards both cities and citizens being plugged into the network has only one logical conclusion, says Prof Andrew Hudson-Smith, from University College London's Centre for Advanced Spatial Analysis.
"Bees exist on Earth to pollinate flowers, and maybe humans are here to build the machines," he says.
"Urban robots are just starting to appear, and in 200 years time, machines may run the urban form.
"The city will be one big joined-up urban machine, and humans' role on Earth will be done."
If that thought doesn't keep you awake at night, then a more mundane problem just might.
Cities never really get dark any more and that is becoming a serious issue, particularly for those who want to spend time looking at the night sky.
In September, the city authorities in Reykjavik, Iceland, ordered all street lights to be turned off in multiple sections of the city to facilitate better views of the northern lights.
Other cities are making the move to smart LED lights in an attempt to control the brightness of streetlights.
As well as offering significant savings because they last longer (up to 20 years) and emit far less energy, such lights can also be plugged into the network, meaning cities can decide when they want to throw out light and when they want to dim it.
Street lighting is estimated to account for 40% of a city's electricity bill, and cities that have made the move report huge savings – Detroit says it has shaved $2.5m (£2m) off of its annual bill.
In Glasgow, the council has taken the idea one step further – fitting smart street lights with noise sensors and connecting them to CCTV cameras so that, if noise goes above a certain level, an alert is sent to its operations centre for evaluation in case it is caused by anti-social or criminal behaviour.
The council told the BBC that it does not yet have any significant data on how the lights are performing.
It is just one illustration of how connected cities can veer from their original purpose into entirely new territories, which may not always be ones their inhabitants will feel entirely comfortable about.
Technology may help impose some order and efficiency on the urban landscape, but many who live there will hope cities long continue to be fast-paced and hectic. It is why many of us love them.
---
Smart city case study: Barcelona
Barcelona has an impressive 500km (311-mile) fibre-optic network, which acts as a backbone for a host of connected services as well as providing citizens with city-wide wi-fi.
The city's lighting works hard:
1,100 lamp-posts have been converted to LED, offering cost savings of 30%

Sensors in the lights can determine when people are passing beneath and light up or dim according to footfall

They form part of the wi-fi network

They are equipped with air-quality sensors
There are 19,500 smart meters in targeted areas of the city, which monitor and optimise energy consumption.
Smart bins monitor waste levels and optimise collection routes.
In transport, Barcelona has plenty of electric cars and bike-sharing schemes, while digital bus-stops don't just give waiting passengers updates on when buses will arrive but also provide charging stations, free wi-fi and information about the best apps to download to learn more about the city.
Drivers can take advantage of an app – ApparkB – that can identify empty parking spaces and allow users to pay for the spot online.
Even the irrigation systems in Barcelona's parks are hooked into the network.
Sensors monitor rain and humidity, allowing park workers to decide how much water is needed in each area, which has led to a 25% cut in the city's water bill.
Barcelona has made its city operating system – Sentilo – which controls all the sensors open-source and available to other cities.
Through the system, data is also shared with citizens.
22/07/2017
Iran bans private drones from skies over Tehran amid security fears
21/02/2017
Former US law chief leads Uber probe
17/02/2017
Google hails net balloon 'breakthrough'
15/02/2017
Dubai announces passenger drone plans 
14/02/2017
UN expert calls on Cameroon to restore net services
09/02/2017
Why has Cameroon blocked the internet?
Image captionNorth-West and South-West are Cameroon's two English-speaking regionsThe government responded by arresting activists and warning against protests and "malicious use of social media".
English speakers in Cameroon say they are often excluded from top civil service jobs and that many government documents are published only in French, even though English is an official language.
English-speaking lawyers object to the employment of French-trained court workers who do not understand the English common law system.
Residents also object to the posting of teachers who do not speak good English to the region's schools.
Why is the country divided along language lines?
The official language or languages of African nations are usually a legacy of their colonial past.
Cameroon was colonised by Germany in the 19th Century and then split into British and French areas after World War One.
Later, areas controlled by Britain and France joined to form Cameroon after the colonial powers withdrew in the 1960s.
In 1961, a referendum was held in the previously British areas – Southern Cameroons voted in favour of joining a unitary Cameroonian state, while Northern Cameroons decided instead to become part of neighbouring, English-speaking Nigeria.
A secessionist movement, the Southern Cameroons National Council (SCNC), emerged in the 1990s and has been banned.
How widespread are internet shutdowns in Africa?
There have been many other partial or full internet shutdowns by African governments in the past 12 months, including in Ethiopia, Gabon, The Gambia, Morocco and Uganda.
This is generally seen as an attempt to stop opposition activists from using social media to mobilise protests, although governments say it is to prevent violence, or to stop people circulating false election results.
Human rights groups have said such action probably violates international law and should "never be allowed to become the new normal".
Deji Olukotun, senior global advocacy manager at Access Now, said in December: "As more people use the internet and social media, they are also increasingly enjoying the freedom and opportunity these provide to organise themselves and advocate for what they want.
"In response, it seems governments are shutting down the net more often to stop this practice."
08/02/2017
Twitter rolls out new anti-abuse tools
06/02/2017
Russian hacking aims to destabilise West, Michael Fallon says
Image captionSir Michael said Nato needed to do more to tackle the "false reality" being propagated by the Kremlin
Suspected Russian attacks had included France's TV5Monde broadcaster being taken off air in April 2015 – originally claimed by hackers linked to the self-styled Islamic State – and the targeting of Germany's lower house of parliament, he said.
Another cyber attack, on Bulgaria in October 2016, was described by the country's president as the "heaviest" and most "intense" to be conducted in south-eastern Europe.
Sir Michael also spoke about the suspected Russian hacking of the two main political parties in the US presidential elections.
Russia has denied any involvement in the hacking, and WikiLeaks founder Julian Assange has denied that Moscow was the source of Democratic Party emails leaked on his website. .
'Testing Nato'
Sir Michael said: "Today, we see a country that in weaponising misinformation has created what we might now see as the post-truth age.
"Russia is clearly testing Nato and the West. It is seeking to expand its sphere of influence, destabilise countries and weaken the alliance.
"It is undermining national security for many allies and the international rules-based system.
"Therefore it is in our interest and Europe's to keep Nato strong and to deter and dissuade Russia from this course."
Sir Michael backed US president Donald Trump's call for all Nato member states to honour the commitment to spend a minimum of 2% of GDP on defence.
A Kremlin spokeman said: "We're very disappointed that minister Fallon is so aggressively disposed, we are sure that such an accusation against our country is unfounded.
"We don't see how a minister that has such a senior post can carry out such unfounded accusations that are based on nothing at all.
"We hope that in time, Great Britain will in some way take a constructive approach that will lead to a normalisation in relations between our two countries."
03/02/2017
Twitter staff give $1m to fight Trump order
01/02/2017
Apple: iPhone 7 helps US giant return to growth
31/01/2017
Vodafone's Indian unit in merger talks
Vodafone has said its Indian business is holding talks about a major merger which would create the country's largest telecoms firm.
It said Vodafone India, the country's second biggest mobile operator, was in negotiations with Idea Cellular, India's third largest network.
There was "no certainty" a deal would be agreed, Vodafone added.
Shares in the UK telecoms giant rose about 3% on Monday, making it the biggest riser on the FTSE 100 index.
Intense competition
India's leading mobile networks are embroiled in what analysts have described as "a vicious price war", started by the arrival of a low-cost rival offering free voice and data to customers.
Vodafone India and Idea Cellular, together with current market leader Bharti Airtel, have been forced to cut prices by Reliance Jio, a new operator owned by the country's richest man, Mukesh Ambani.
Vodafone was forced to write down the value of its Indian business by 5bn euros (£4.3bn) in November amid the intense competition.
The firm has looked to spin off Vodafone India, but said at the time it would wait for the market to stabilise.
The merger talks with Idea suggest "Vodafone is taking the Indian tiger by the scruff", said Neil Wilson, an analyst at London brokers ETX Capital.
"India has become a trouble-spot for Vodafone, with losses there severely hurting the rest of the group," Mr Wilson said.
"Indeed a vicious price war in India means the group could post its first operating loss in 10 years in 2017. The Idea tie-up looks like a way to limit the casualties on either side.
"Something had to be done and this merger might be the way to strengthen Vodafone's hand in the Indian price war."
In its statement on Monday, Vodafone said a merger with Idea would enable it to take the India unit off its books and receive a dividend from the new business.
Shares in Idea Cellular, owned by the Aditya Birla Group, have surged 26% on confirmation of the merger talks.
More consolidation to come: Analysis by Sameer Hashmi, BBC Business Reporter, Mumbai
More than ten telecom operators are battling it out to attract the custom of India's one billion mobile phone users.
That has forced firms to keep tariffs low – significantly impacting their profitability.
And the entry of Reliance Jio last year – has made matters even worse.
You can't avoid its high profile advertising campaigns here – pushing introductory offers of free voice calls and internet to cost conscious consumers.
The deep pockets of Mukesh Ambani mean many expect rock bottom prices even in the long run, forcing rivals to slash their charges further if they want to stay in the game.
So even if this Vodafone-Ideal merger goes ahead, I doubt it'll be the last bit of consolidation we see.
30/01/2017
Virtual reality 'could help treat vertigo'
27/01/2017
Kaspersky security researcher arrested in Russia
26/01/2017
Zuckerberg dismisses presidential bid rumours
Image captionThere has been speculation that Mr Zuckerberg will run for president
In April 2016, Fortune reported that Facebook had agreed changes to its company structure that would allow Mr Zuckerberg to stand in an election.
He has also softened his approach to religion, describing it as "very important", in a Christmas post.
Mr Zuckerberg had previously described himself as an atheist, which might have limited his appeal with some US citizens.
In January, he announced a "personal challenge" to visit and speak to people in every US state, including 30 he had not visited before.
Presidential candidates typically tour US states to drum up support.
Buzzfeed News said Mr Zuckerberg had "not immediately responded" to further questions about possible political ambitions.
25/01/2017
Neutrality fear over Trump appointee
Image captionAjit Pai is the new chairman of the US communications regulator
President Donald Trump has chosen Ajit Pai as the new head of the US Federal Communications Commission, the government agency which regulates telecoms issues.
The appointment has raised concerns among internet rights activists that laws ensuring net neutrality are now under threat.
Net neutrality is the term given to the view that all traffic on the internet should be treated equally – rather than, for instance, internet service providers being allowed to charge more for a "fast lane" for people wanting to use data-heavy services such as Netflix.
Supporters of net neutrality – which includes Google and Facebook – believe it is vital to ensure competition among online companies.
If a fledgling video service could not afford to be in the so-called fast lane it would struggle to compete with the likes of YouTube or Vimeo, they argue.
Typically, Republican members of the FCC have voted unsuccessfully against net neutrality – under President Trump the commission will have a Republican majority.
'Fire up the weed whacker'
Under President Obama, the laws over net neutrality were regularly debated, often provoking a strong public response.
In 2015 landmark laws were passed to protect net neutrality, a move seen as a major victory for advocates who had worried the corporate tide was pushing heavily against them.
However, Mr Pai, speaking after President Trump's election win, said: "During the Trump administration, we will shift from playing defence at the FCC to going on [the] offence.
"We need to fire up the weed whacker and remove those rules that are holding back investment, innovation, and job creation."
Mr Pai was already an FCC commissioner and so therefore can move directly into the role without a Senate confirmation hearing.
In the past he voted against strengthening net neutrality laws.
Craig Aaron, president of communications advocacy group Free Press, said: "Ajit Pai has been on the wrong side of just about every major issue that has come before the FCC during his tenure. He's never met a mega-merger he didn't like or a public safeguard he didn't try to undermine."
Contradicting Trump
But the appointment was welcomed on Monday by telecoms giant Verizon, Mr Pai's former employer, as well as other internet service providers such as Comcast and AT&T.
For AT&T in particular, the move could spell extremely good news.
Mr Pai is said to be supportive of the mega-merger between AT&T and Time Warner announced last year.
This contradicts President Trump's assurance the merger was "a deal we will not approve in my administration because it's too much concentration of power in the hands of too few".
Time Warner is also the parent company of CNN, the network that has come in for the most criticism from President Trump.
In a statement, AT&T said: "Chairman Pai will work with his fellow commissioners to quickly and decisively put back in place the commonsense regulatory framework necessary to support the president's agenda."
23/01/2017
Sorry cats, doggos run the internet now
Image captionThis is Gavin, a very good dog
Socialbakers is a company that monitors social media for trends and stats relating to things that are most popular. I got in touch with them about this, and within hours they came back to me with the goods.
For starters, the runaway champion of most popular animal on Facebook is a dog named Boo. He's got more than 17.5m likes, more than double that of his closest competitor, Grumpy Cat.
In third place, Nyan Cat – who isn't even a real cat, for crying out loud.
On Instagram, fine, I'll admit, the top celebrity is a cat. But 2nd, 3rd and 4th place? All dogs. All good dogs.
When it comes to searches on Google, dogs .
But more significant was the historic moment on 3 January 2016, when, for the first time, the term "cute dogs" overtook "funny cats" in global searches.
I think I've proved my point.
Puppers
Like any viral phenomena, there's a new vocabulary to get your head around if you are to be a part of this new term of internet governance.
Dogs aren't just dogs. They're doggos. Puppies are puppers. And while not all puppers can be considered doggos, all doggos are most certainly puppers. Or woofers. Woofers that bork. If you want, you can boop a doggo's snoot. That is – to lightly bop on one's nose.
Image captionThis is Loki, a very good dog
When in mild distress, or sometimes just for emphasis, their chosen curse word is the ferociously aggressive "heckin".
Oh, and if a dog sticks his or her tongue out a little bit? That's a blep.
Like any new language, the best way to learn is to engross yourself in the culture – and one fine place that speaks fluent doggo is the happiest corner of the internet, Facebook's Cool Dog Group (CDG).
Here you'll find the likes of Igor, who, let me tell you folks, is a born superstar, believe me.
Igor's just one of hundreds of puppers posted every week, a most welcome addition to news feeds that would otherwise be clogged up with baby pictures and wedding photos. You're welcome.
'They're good dogs, Brent.'
It's the grassroots of doggo appreciation that has the movement set to make huge strides in 2017.
Image captionBrant gets his comeuppance
It's being spearheaded by Matt Nelson, a 20-year-old who studies golf course management in North Carolina, and a man described by serious newspaper Washington Post as "the internet's most famous dog rater".
Nelson runs the WeRateDogs account on Twitter. People submit dogs to be rated, and Nelson will consider the merits of said dog and provide a score out of 10.
Recent scores: 12/10 for Hercules, 13/10 for Duchess and 14/10 for Sundance who, in a short clip, plays the drums.
Late last year this generous but fair system was brought into disrepute by the user Brant, who questioned why all the dogs got such unfathomably high ratings.
"They're good dogs, Brent," replied Nelson – an era-defining retort which you can now buy on a hoodie. Or a mug.
Since then, popularity has exploded. He now has over a million followers.
"We started up an e-commerce store," Matt tells me. "We have a book deal. So many things I thought you could never do with just a Twitter account."
Therapy dogs
You could say there's plenty of data out there to suggest that I'm wrong, and that cats are still very much in control. And you'd be right – I found plenty evidence which completely disproves the theory I've outlined here, but I've left it out as I don't care.
There was one piece from Gizmodo in 2015 that suggested there were scientific reasons to why cat memes were more popular online – but to that I say WRONG. Fake meows.
Because the web is just different now. Looking at cat pictures was a way to waste time by mucking about on the internet.
Now, like the therapy dogs of the real world, internet doggos are supplying a much needed diversion from the humourless drudgery that makes up much of the modern social web.
"Dogs are just a pure innocent thing," Matt Nelson says. "They are the embodiment of unconditional love, and that's what people want now.
"I see my account as this refuge of something bright on the internet."
And so that's it. Sorry cats. You had a good run.
Before publishing, my editor told me I was brave to write to this piece.
"No no," I said. "Brave is allowing people to leave comments…"
19/01/2017
Drone photography company to pay record-sized fine
13/01/2017
Google confirms end of internet drone project
Image captionGoogle said it was focusing on Project Loon, another project to bring the internet to remote areas using hot air balloons
At the time Google said it was "early days", but that "atmospheric satellites could help bring internet access to millions of people, and help solve other problems, including disaster relief and environmental damage like deforestation".
However, after test flights began in 2015, reports alleged that Titan was facing technical difficulties and was running out of money.
In mid-2015, the Titan team also experienced a crash in the Arizona desert which was later linked to a wing fault.
The statement added that "many" Titan staff had been reassigned to different parts of the business, including Project Loon and Wing, a division dedicated to providing drone-based deliveries.
Facebook's internet drones have also faced problems.
The firm's Aquila drone crashed during a test flight in June, prompting an investigation by the National Transportation Safety Board, and an explosion destroyed one of its satellites earlier in 2016.
11/01/2017
Tomorrow's cities: What it feels like to fly a jetpack
Image captionSome people dream of getting to work via a jetpack
"Jetpacks will be part of future cities," Peter Coker, vice-president of innovation at KuangChi Science, Martin Aircraft Company's major Chinese shareholder.
"I see it as being the Uber of the sky."
Martin Aircraft Company, based in New Zealand, already has a working prototype that can fly at 2,800ft (850m) at 45km/h (27mph) for 28 minutes.
And Mr Coker says commuters will be able to hail an unmanned jetpack via a smartphone app.
He admits there will be "regulatory hurdles" to overcome and, if the airways become packed with jetpacks, a need for "automatic collision avoidance".
But, according to Michael Read, who is one of only two test pilots who have actually flown the jetpack, it will be worth it.
"It's intuitive, free-flowing and most of all, fun," he says.
"Being able to be transported up into the sky in such an unconstrained way is truly a unique and enjoyable experience.
"Of the nearly 3,000 people we've had fly our simulators, almost every single one of them has left with a big smile on their faces.
"Given that the simulator is very close to reality, this gives us the biggest indication that it is as much fun as people imagined it would be.
"I certainly enjoy it."
---
Read more about how cities are using technology:
---
Congestion is one of the biggest problems facing cities, and with statistics projecting that close to 70% of the world's population will live in urban areas by 2050, it is something that they have to deal with.
There is little that technology can do to cut down on the number of people in cities, but it is increasingly being relied on to keep traffic moving.
Image captionHow can technology ease congestion?
And car-sharing schemes, such as ZipCar and UberPool, can cut the number of cars on the road.
In Glasgow, the government has spent £12m on an operation centre that monitors 500 cameras and can intervene at more than 800 traffic lights across the city.
And the system gives priority to late-running buses to persuade more people back on to public transport.
In Boston, the mayor's office has devoted a whole department to what it calls new urban mechanics, an innovative city lab aimed at improving engagement between citizens and government.
Image captionGlasgow has built a state-of-the-art operations centre to monitor traffic
Among other projects, it is looking at how to make traffic lights smarter.
Real-time alterations to the red-and-green cycle can cut congestion time by up to 50% and make a city drive much more agreeable, says Prof Christos Cassandras, a smart cities expert from Boston University, who helped develop the system.
"We have all been in the situation where we keep getting stuck behind red light after red light, so imagine if we can control the traffic lights or even the car to alert drivers that if they accelerate a little bit they will make that green light," he says.
Cars that can do just that are already being tested on the roads in Chinese cities, says Prof Cassandras.
Some cities, such as Stockholm, charge cars higher rates to travel at peak times in an effort to ease the rush hour.
In Copenhagen, half of all city residents get to and from work or school via bike, helping with the city's goal of becoming carbon neutral by 2025.
Traffic jams have fascinated scientists for decades, and there is even a branch of maths – jamology – devoted to their study.
"We humans are terrible drivers, and we cannot keep our speed constant," Prof Cassandras says.
Image captionIn Lyon, you can take a ride on a driverless bus
That problem could be eliminated with the advent of automated cars – and with most of the big manufacturers promising to have fleets on the road by 2020 or soon after, that is a looming reality.
But a University of Michigan study suggests 23% of Americans would not consider riding in a driverless cars, while 36% would be so anxious they would constantly watch the wheel.
In response, companies are making vehicles that look friendlier.
Semcon has a self-drive car that interacts with pedestrians by displaying a graphic that makes it look as if it is smiling, while cities such as Lyon are experimenting with cute-looking self-drive buses.
In Pittsburgh, Uber has launched a fleet of self-drive taxis.
And in Washington, Las Vegas and Florida, there are plans to run a 12-seat driverless bus fitted with IBM's artificial intelligence platform, Watson, so it can respond to conversational questions about journey times and even recommend local restaurants or historical sites.
So far it has had some limited trials.
"When people climb onboard and start interacting with Watson, they sure do crack a smile," says Matthew Lesh, head of mobility at manufacturer Local Motors.
Pilots on real roads begin in November.
---
Hyperloopy?
Image captionThere are several companies developing concept high-speed trains, including Hyperloop Technologies
Cities are at a crossroads when it comes to easing congestion – should they invest in expensive, hi-tech infrastructure schemes, such as China's straddling bus, or sit back and wait for the era of driverless cars to solve the problem?
No future transport system has captured the imagination or the headlines as much as the Hyperloop, conceived by Silicon Valley maverick Elon Musk as a super-fast transportation system consisting of low pressure tubes inside capsules.
But, increasingly, experts are questioning whether we need such grand futuristic schemes – and their objections are not about whether they are technologically feasible or even about the cost.
Head of MIT's Senseable Cities lab Carlo Ratti asks: "Do we really need a short trip in a small, dark tube?"
On a recent trip from London to Paris, he opted for a slower journey and did not regret one moment of it.
'I enjoyed very much spending two hours on the Eurostar," he says.
"I was online, the comfortable seat became my workplace during the trip, and I could enjoy the gorgeous English and French landscape all around.
"I thought that I had the most beautiful office in the entire world."
---
Smart city case study – Boston
Image captionBoston is often cited as a city that has got citizen engagement right, thanks to the mayor's Office of Urban Mechanics
Potholes are the scourge of drivers and councils alike – but in Boston, the government, in conjunction with Boston University, has come up with a novel solution.
Street Bump is an app that utilises the iPhone's accelerometer to detect dips in the roads.
The data is analysed, and the algorithms are smart enough to distinguish between real potholes and other bumps, such as train tracks.
They can also prioritise potholes in most dire need of repair, and the information is sent to the relevant city department.
Some politicians say the fact it requires an iPhone means poorer neighbourhoods are less well served- but Prof Cassandras, who helped develop the app, denies this.
"In fact, a lot of the time, the app is run by municipal vehicles – police cars, buses – which are just as likely to be found in poorer neighbourhoods," he says.
10/01/2017
'Sweating bullets' – The inside story of the first iPhone
Image captionTony Fadell, known as the "godfather" of the iPod
Within just a few months, the world would know all about the little device – but for now, Fadell was holding it tight.
60s future phone
Tony Fadell is sometimes referred to as the "godfather" of the iPod. He left Apple in 2010, and went on to found Nest, the smart home company now owned by Alphabet, Google's parent company. He left that company last year*.
As far as Fadell is concerned, today is in fact the 12-and-a-half year anniversary of the first iPhone.
That's when he started working on the idea, born out of an acceptance that the iPod, which was turning around Apple's fortunes, was a platform that could be developed further.
By this point the iPod had got video capabilities, even games.
"We were like, 'Wait a second, data networks are coming'," he told the BBC.
"We should be looking at this as a general purpose platform."
Starting this way was the magic ingredient that meant the iPhone broke boundaries, Fadell said. While competitors like Microsoft were trying to shrink the PC into a phone, Apple was looking to grow the iPod into something more sophisticated.
Indeed, one early iPhone concept design used the iPod's distinctive click-wheel as its input method. That was soon ditched.
Image captionApple's iPod was the basis for the iPhone says Tony Fadell
"We were turning it into a rotary phone from the sixties," Fadell remembered. "We were like, 'This doesn't work! It's too hard to use'."
It just so happened that in another part of Apple, work had started on a touchscreen Macintosh computer.
"They had been working on this in secret. It was the size of a ping pong table. Steve showed it to me and said, 'I want to take that and put it on an iPod'."
Fadell warned Jobs that to make a touchscreen device like the one he envisioned would take time, money and new dedicated infrastructure. They went for it.
"We needed thousands of people working on all of this, at the same time, for it to land together for the launch.
"And then we only had six months after that to ship it. Obviously we pulled it off, but it was not easy."
Malmo Mystery
Apple had many of the best brains in the business, but until that point it hadn't ever made a phone of its own.
And so Fadell planned a fact-finding world tour to meet experts and check out research labs of telecoms experts.
It began with one manufacturer in Malmo, Sweden – a trip which ended with all of their bags, notes and equipment being stolen from their cars while they were inside a restaurant having dinner.
"They knew we were building a phone," Fadell said.
"We asked our host where to get to dinner, we were there all of 20 or 30 minutes because we were tired.
"When we got back to the car, every single thing in the car was gone. Every single bag. We swear it was corporate espionage."
If it was, there were few secrets lost. The team returned home without many of their belongings, but heads full of ideas.
Meanwhile, one fiery debate was just getting started.
Keyboard killed off
It was of course: Should the iPhone have a keyboard or not?
"That fight raged on for around four months," Fadell said. "It was a very ugly situation."
Jobs, who had his heart set on a touchscreen, became so incensed with people disagreeing with his ideas that he enforced a blunt policy.
---
Looking back – BBC's Rory Cellan-Jones on the launch
A Sunday newspaper columnist described me as having clutched the phone as if it were "a fragment of the true cross", and some viewers complained that the BBC had given undue prominence to a product launch.
I appeared on the Newswatch programme to defend our reporting and said that some products did merit coverage because they promised a step change in the way we lived – and I mused on whether the Model T Ford would have been a story if we'd had a TV news bulletin back then.
Afterwards, I rather regretted saying that – who knew whether the iPhone would really prove as revolutionary as the arrival of mass car ownership?
But today that comparison does not look so outlandish.
Read Rory's blog post
---
"Until you can agree with us you can't come back in this room,"" Fadell recalled Jobs saying to pro-keyboarders. "If you don't want to be on the team, don't be on the team."
The disagreements soon stopped.
"One person got sent out of the room and everybody got the message and fell in line."
But while the argument left the room, it didn't leave the iPhone team's minds. Indeed, some people still think it was the wrong decision not to go for a Blackberry-style keyboard which, back then at least, was the phone to beat.
"We laid out all the risks of using just a touchscreen. We had to work around each one."
Secret Stylus Strategy
From the word go, Jobs was clear: the iPhone didn't need to work with a stylus because your finger is all you should need.
But Fadell told the team working on the multi-touch screen – arguably the greatest breakthrough the iPhone heralded – to make sure it was compatible with a stylus anyway.
"I thought, 'We must make this work with a stylus'," Fadell remembered.
"Because we knew it was right, even though Steve was making a philosophical point initially saying you can just use your finger. We knew there will come a day when you're going to need a stylus.
"We did it without his knowledge, it was behind the scenes. He would've ripped my head off."
Doing things in secret was a common strategy for stubborn engineers and designers who took the view that what Jobs didn't know couldn't hurt him. And if you were eventually proven right, you could accept the praise.
"It was the same thing that happened with the iPod working on a PC," Fadell said.
"Steve wanted nothing to do with it, but when iPod growth stalled, we said, 'Oh by the way we've been working on this background'."
"I asked Steve how much a song on iTunes cost, and he said, '99 cents'. I said, 'No, it's the cost of an iPod, plus the songs, plus a Mac! We only have 1% market share, Steve!'
"He understood."
Jobs may have relented on having Apple products work on Windows, but he took his hatred of the stylus to his grave, though his successor, Tim Cook, introduced the Apple Pencil in 2015.
Steve Ballmer's laughter
And so to the 9th January 2007.
Hordes of fans and media shuffled into San Francisco's Moscone Center to see what Jobs brought on as his "one more thing" at the end of a keynote address at that year's Macworld event.
The device on stage was "only half-baked", Fadell recalled, but was quickly referred to as the "Jesus phone".
The press mocked the cultish manner in which iPhone was unveiled. Steve Ballmer, at the time Microsoft's chief executive, famously laughed at the device, calling it "not a very good email machine" that wouldn't appeal to business users.
"We all laughed at him," Fadell remembered.
"We also laughed at Blackberry. Whenever I create a new product , and I learned this with Steve [Jobs], if the incumbents laugh at you and the press laugh at you, you go, 'we've hit a nerve'."
Since that day, more than a billion iPhones have been sold, helping make Apple the richest company in the world.
Follow Dave Lee on Twitter@DaveLeeBBC and on Facebook
*The BBC's interview with Tony Fadell was granted on the condition it was limited to the history of the iPhone.
05/01/2017
CES 2017: Cruise trips personalised with wearable gadget
Image captionCruise ship workers will receive information about guests via the Ocean Medallion
Holiday resorts and cruise ship brands, including Carnival's rival Royal Caribbean Cruises, increasingly offer visitors access to various services via smart bands or wearable gadgets.
The undertaking could perhaps foreshadow what life in a future smart city or internet of things-powered shopping complex might be like.
But Mr Garner noted not everyone had the capabilities of a cruise line.
"City officials don't typically have the budget to do grand-vision schemes like the Carnival re-fit," he said.
"In fact, most cities are chronically short of budget."
Connection technologies built in to the Ocean Medallion include Bluetooth and near field communications (NFC), according to the travel firm.
This will allow passengers to:
unlock their cabin doors automatically as they approach

find the location of friends and family onboard the ship

pay for merchandise without using cash or a credit card

navigate from one place to another on the vessel

connect guests to a gambling platform accessible around the ship
The service will be offered first to passengers on the Regal Princess ship from November. It will then be expanded to the Royal Princess and Caribbean Princess ships in 2018.
---
02/01/2017
CES 2017: Tech preview of Las Vegas's biggest launches
Image captionThe C by GETABLE LAMP
has a central blue ring
that responds when Alexa is summoned
The headphones
specialist OnVocal will be showing offWIRELESS EARPHONES
that link up to Alexa, and GE has also preannounced a table lamp that doubles as a speaker powered by Amazon's voice service. Sonos too aims to add the facility to its wireless speakers
, though we believe it isn't quite ready to show off its efforts.
But don't count the other two out.
We know Microsoft is working with Harman Kardon on a "premium audio" speaker, and the firm has teased adding Cortana to other types of products, including toasters. And Google has secured at least one bit of kit at CES – the Aviva speaker – to host its cloud-based intelligence.
One expert suggested others will also try to gatecrash the party.
It's not all about voice though.
The French start-up Bixi will be making the case for gesture controls. It will be demoing the final design of a gizmo that lets you control smartphones and tablets with a wave of a hand.
More groundbreaking perhaps is the Blitab, a tactile tablet described as the iPad for the blind.
The Austrian innovation produces small physical bubbles in an area above its touchscreen which delivers refresh double lines of dynamic Braille.
---
Year of the robot?
We're still decades away from having the type of androids seen onTV
shows such as Westworld or Humans.
But CES is still an opportunity to see how far along more specialised kit has become.
London-based Emotech is one toWATCH
.
It will unveil Olly – a tabletop bot with its own smart assistant that recognises different household members and adapts it personality toSUIT
each one.
The project was developed with help from academics at University College London, Imperial College and Edinburgh University, and has already secured $10m (£8.2m) of investmentFROM CHINA
.
There will also be a range of modular robots.
Several companies are backing the concept, which allows users to switch about parts to change skills and manoeuvrability.
Examples will include Modi, a Lego-style kit that lets owners build a bot out of small cubes – each offering different functions such as motors,LIGHTS
and infra-red detectors.
Another is Unibot, a robotic vacuum cleaner that trebles up as a mobile home securityCAMERA
and an air purifier
/humidifier.
Meanwhile, OAPs can look forward to Cutii, a robot that resembles an iPad on wheels, which will supposedly become their "companion".
And there will also be bots that zoom round tennis courts picking up balls, remove droppings from cat litter, and even move physical chess pieces around a board.
Keep an eye out for Laundroid, too. The Japanese clothes-folding machine raised $60m from Panasonic and others for its giant clothes-folding droid following an appearance at last year's CES.
Some have described the idea as ridiculous.
But it will be interesting to see if it works well enough to go on sale later this year, as planned.
---
Health and wearables
Pregnancy seems to be one of health tech's preoccupations this year.
There is both Ava, a sensor-equipped wristband that apparently alerts women to when they are most fertile, and Trakfertility, a DIY sperm count test that tells an associated app what steps the owner should take to boost their numbers.
And just in case you are tempted to pair off with the wrong partner, Milo Sensors is in town with what it describes as the world's first blood alcohol wearable.
It's easy to joke, but health tech is booming and analysts are competing to predict how many billions of pounds it will be worth in a decade's time.
The ultimate goal is to create something resembling StarTREK'S
Tricoder – an all-in-one device that diagnoses any ailment.
An Israeli start-up will be showing off a gadget that promises to get us at least partly there.
The TytoHome is designed to let families take heart, lungs, throat, abdomen and other organs' readings and send them to their clinicians. Its slogan is a "check-up without the check-in", but medics may need convincing.
There will doubtless be new twists on the fitness tracker too. It would be unwise to suggest the market for such devices has peaked – Fitbit's appTOPPED
Apple's App Store this Christmas, indicating people are still buying them in droves.
But a more intriguing development is wearables with built-in airbags.
ActiveProtective is promising to show off a prototype smart belt for the elderly that triggers a cushioning action over their hips if it detects a fall.
And Inemotion has developed ski racingCLOTHES
with a similar function to prevent injuries on the piste.
France's Wair has a different spin on discreet wearable tech with a internet-connected scarf that doubles as an air filter.
But the question remains whether wearable tech has a profitable future beyond health.
There will be more app-laden smartwatches – including the possibility of the first Android Wear 2.0 devices – at the show, but the sector has not been the hit many had predicted.
We're also promised the world's first vibrating tight cutJEANS
that offer their wearers directions without having to look at a screen.
---
Televisions
If you had asked the experts a decade ago, they would probably have predicted OLED (organic light
-emitting diode) TVs would be the norm by now. But the tech has faced several setbacks.
It's stubbornly refused to become as cheap to manufacture as hoped, it doesn't go as bright as LED equivalents and some complain that it "crushes the blacks" making it hard to distinguish detail in the shadows.
Even so, OLED retains a wow factor thanks to its ability to control theLIGHT
of each individual pixel, helping its images to have more "pop", and its screens to be ever thinner.
Panasonic has hinted it will show off an OLED display at CES that will better handle dim scenes, and there is speculation Sony has similar news.
Plus there's reason to believe prices are about to drop.
Until recently, LG manufactured all the OLED panels used by itself and other brands. But now BOE – a Chinese company – has a rival component. The question is who will break ranks to adopt it.
Expect Samsung to make a loud noise about QLED, a new spin on its "quantum dot" technology that allows its screens to be brighter than ever before.
That's important
because of because of HDR – another acronym you're going to have to get used to. It refers to high dynamic range, which allows images to appear more vibrant and detailed – especially in scenes containing both glints of light and shadows.
The problem is that there are three rival HDR standards – HDR10, Dolby Vision and the BBC's forthcoming HLG – meaning the potential for another format war.
But it is possible to support all three, so it will be revealing to see if any of manufactures make a commitment to do so with their new screens.
---
Smart home and other "internet-of-things"
It's now relatively cheap and power-efficient to add sensors and wireless data links to products. That's led to an explosion of ideas – some more sensible than others.
Its debateable how many of us really need Genican, for example, a device that scans rubbish's barcodes as it is thrown away in order to build up a shopping list of replacement items.
Likewise, it's not clear whether an aromatherapy diffuser needs to be smartphone-controlled, even if its scents really boost memory and clean lungs, as claimed.
Where things get more interesting is when tech genuinely makes lives simpler without requiring too much effort.
One way firms are trying to do this is by focusing on the refrigerator.
LG has a model that activates a sterilisation process when it senses temperature and/or humidity issues in order to extend food's shelf life.
And for those who would prefer to retrofit their existingEQUIPMENT
, a UK-start up has Fridgecam: a device that keeps track of what its owners have in stock and when it expires, sending alerts to buy new items when necessary.
But one expert says if the sector is achieve its potential, consumers need to be reassured that the risks do not outweigh the benefits.
"In the last 18 months the conversation about security and privacy has moved from the tech pages to the front pages of newspapers," said John Curran from the consultancy Accenture.
"To make these devices easy to connect and easy to use, some companies have hardcoded passwords or put no security measures in place, and that made them an easy target.
"At CES we're looking for businesses to be more transparent about what data is being collected, how it's being used and with whom it's being shared.
"And they need to make it easier for consumers to adjust their security settings."
---
Virtual and augmented reality
There are rumours that HTC will unveil a second-generation Vive VR headset at CES – possibly introducing wireless capabilities – but the system is only nine months old, so that seems a tad optimistic.
The two other big virtual reality firms – Sony and Facebook's Oculus division – launched their kit even more recently.
Even so, there should still be lots of developments.
Huawei has just hired Steve LaValle, one of the brains behind Oculus, and the Chinese firm is set to reveal more about its VR plans at the show.
It's a safe bet that several third-party headsets previously teased by Microsoft will also be on display.
And we will also see the introduction of Fove, a crowdfunded VR headset with eye-tracking abilities, allowing gamers to control action with shifts in their gaze.
Fove won't be the only one trying to offer new ways for users to interact with virtual experiences.
A foot controller that lets you direct where your character walks, a sensor-laden T-shirt that tracks your torso's movements, and various haptic devices that try to let consumers feel virtual objects are just some of the products with CES stands.
With augmented reality – where graphics and real-world views are mixed together – things are still at an early stage.
But Asus and others may reveal handsets that include Google's Project Tango depth-sensing technology, adding basic AR capabilities.
Intel will have more to say about Project Alloy – a headset that lets you see your hands and other real-world objects within VR worlds.
And a start-up called Occipital will demo a contraption that uses an iPhone to create something akin to Microsoft's HoloLens mixed-reality headset.
While hardware may dominate the headlines, it could be content that determines which products are winners.
"In the US the National Basketball Association recently announced that it will broadcast games in virtual reality," noted Mr Curran.
"And as other big media and content companies get involved, they will attract more types of consumers to VR, rather than just the tech-enthused.
"So, I'll be looking to see which platforms the media providers target as they pursue opportunities in this space."
---
Transportation
There's going to be a lot of talk and demos of self-driving cars by the big automakers on and off the Las Vegas strip.
Menawhile, rival chipmakers – including Intel, Nvidia and Qualcomm – will be excitedly pitching their processors and 5G chips as the potential heart of the autonomous vehicle revolution.
But you'll have to wait for a future CES to find anything road-ready that allows the "driver" to really ignore the steering wheel.
This time round, look instead for new ways to interact with your vehicle.
BMW will unveil its HoloActiv Touch system, in which motorists use finger gestures to interact with graphics that project out of dashboard screens.
And Continental will demo facial recognition tech that recognises who is driving and adjusts mirror and seat positions accordingly.
Faraday Future is also back for a second year to convince sceptics that it can launch an electric car before its funds dry up.
There will also be all kinds of alternative transport ideas including an intelligent scooter that shuts off its power if it detects an accident, a motorised rideable suitcase and the latest evolutions of the hoverboard.
---
Odds and ends
And we've still barely scratched the surface. There are zones dedicatedTO DRONES
, beauty tech and 3D printing.
Plus there's room for oddities, such as a device that claims to be able to record smells.
The BBC tech team will do its best to keep your across all the major developments from the first press day on Tuesday until the show floors shut on Sunday.
You can keep up to date at bbc.co.uk/ces2017 and by following our Twitter list of those covering CES.
30/12/2016
Amazon files patent for flying warehouse
29/12/2016
Drone-based blood deliveries in Tanzania to be funded by UK
Image captionDfid believes that drones can help map routes in Nepal that could help if a disaster like last year's earthquake reoccurs
Parachute deliveries
Zipline's drones – called Zips – are small fixed-wing aircraft that are fired from a catapult and follow a pre-programmed path using GPS location data.
The advantage of the design over multi-rotor models is that the vehicles can better cope with windy conditions and stay airborne for longer. In theory, they can fly up to about 180 miles (290km) before running out of power, although Zipline tries to keep round trips to about half that distance.
Their drawback is that they require open space to land – in Zip's case an area about the size of two car parking slots.
Zipline gets round this issue by having its drones descend to heights of about 5m (16.4ft) when they reach their destinations and then release their loads via paper parachutes. Afterwards, they regain altitude and return to base before coming to rest.
The aircraft fly below 500ft (152m) to avoid the airspace used by passenger planes.
Tanzania, Rwanda and Malawi – which uses a different type of drone for medical deliveries – all take a permissive approach to unmanned aerial vehicle [UAV] regulations, helping make them attractive places for such trials.
Earlier in the year, Tanzania also authorised the use of drones in its Tarangire National Park as part of an effort to deter animal poachers.
Saved lives
Dfid estimates that flying blood and medical supplies by drone from out of Tanzania's capital, Dodoma, could save $58,000 (£47,400) a year compared to sending them by car or motorcycle.
But a spokeswoman suggested that the time savings were more crucial.
"Flights are planned to start in early 2017, and when they do it is estimated that [the] UAVs could support over 50,000 births a year, cutting down the time mothers and new-borns would have to wait for life-saving medicine to 19 minutes – reduced from the 110 minutes traditional transport methods would take," she explained.
The Ifakara Health Institute – which specialises in treatments for malaria, HIV, tuberculosis as well as neonatal health issues – will be the local partner.
The Humanitarian UAV Network and other non-profit bodies recently surveyed the use of drones to carry out human welfare tasks.
The study highlighted the work Zipline was doing, noting the firm was capable of setting up a new drones launch hub in as little as 24 hours, meaning it was well suited to rapid response efforts as well as longer-term projects.
But the study also noted that humanitarian cargos are often measured in tonnes rather than kilograms, and need to be transported across longer distances than a Zip can manage.
"Given these current trade-offs relative to manned aviation, the specific cases in which cargo drones can currently add value are particularly narrow in the context of the universe of needs that humanitarian organisations typically face," it said.
And it added that more research was needed to properly evaluate whether existing schemes were as reliable as claimed.
"Organisations considering the use of cargo drones need statistics on flights performed, hours logged, failure rates and other performance measures."
28/12/2016
Sony Music sorry after hoax 'Britney Spears dead' tweet
Image captionThe tweets were quickly dismissed as a hoax
As well Sony's Twitter account, the official account of Bob Dylan also appears to have been hacked. It tweeted: "Rest in peace @britneyspears" around the time of the fake Sony tweets.
After the tweets were published, a group called OurMine appears to have gained access to the Sony Music account and pointed out the security breach. It is not clear whether it was also responsible for the original false messages.
Just a few days ago, it appeared to have hacked into the Twitter accounts of Netflix US and Marvel Entertainment.
And it has also been linked to compromising the Twitter accounts of top executives including Facebook's Mark Zuckerberg and Google chief executive Sundar Pichai.
Hollywood hack
While the latest incident is potentially embarrassing to Sony Music, it is not likely to have the same repercussions as another cyber-security breach that Sony suffered in 2014.
That hack, which targeted Sony Pictures, resulted in unreleased films and the script for the next James Bond movie being leaked online.
Details of corporate finances and private emails between producers and Hollywood figures were also released.
North Korea was accused by the US of orchestrating the move and the eventual fallout saw Sony cancel the Christmas release of a comedy called The Interview, a film depicting the assassination of the North Korean leader.
27/12/2016
The iPhone at 10: How the smartphone became so smart
Image captionApple's designer Sir Jony Ive has been widely lauded for his contribution to the iPhone's success
All of these technologies are important components of what makes an iPhone, or any smartphone, actually work. Some of them are not just important, but indispensable. But when Mariana Mazzucato assembled this list of technologies, and reviewed their history, she found something striking.
The foundational figure in the development of the iPhone wasn't Steve Jobs. It was Uncle Sam. Every single one of these 12 key technologies was supported in significant ways by governments – often the American government.
A few of these cases are famous. Many people know, for example, that the World Wide Web owes its existence to the work of Sir Tim Berners-Lee. He was a software engineer employed at Cern, the particle physics research centre in Geneva that is funded by governments across Europe.
And the internet itself started as Arpanet – an unprecedented network of computers funded by the US Department of Defense in the early 1960s. GPS, of course, was a pure military technology, developed during the Cold War and opened up to civilian use only in the 1980s.
Other examples are less famous, though scarcely less important.
The Fast-Fourier-Transform is a family of algorithms that have made it possible to move from a world where the telephone, the television and the gramophone worked on analogue signals, to a world where everything is digitised and can therefore be dealt with by computers such as the iPhone.
The most common such algorithm was developed from a flash of insight from the great American mathematician John Tukey. What was Tukey working on at the time? You've guessed it: a military application.
Specifically, he was on President Kennedy's Scientific Advisory committee in 1963, trying to figure out how to detect when the Soviet Union was testing nuclear weapons.
Smartphones wouldn't be smartphones without their touchscreens – but the inventor of the touchscreen was an engineer named EA Johnson, whose initial research was carried out while Johnson was employed by the Royal Radar Establishment, a stuffily-named agency of the British government.
The work was further developed at Cern – those guys again. Eventually multi-touch technology was commercialised by researchers at the University of Delaware in the United States – Wayne Westerman and John Elias, who sold their company to Apple itself.
Yet even at that late stage in the game, governments played their part: Wayne Westerman's research fellowship was funded by the US National Science Foundation and the CIA.
Then there's the girl with the silicon voice, Siri.
Back in the year 2000, seven years before the first iPhone, the US Defence Advanced Research Projects Agency, Darpa, commissioned the Stanford Research Institute to develop a kind of proto-Siri, a virtual office assistant that might help military personnel to do their jobs.
Twenty universities were brought into the project, furiously working on all the different technologies necessary to make a voice-activated virtual assistant a reality.
Seven years later, the research was commercialised as a start-up, Siri Incorporated- and it was only in 2010 that Apple stepped in to acquire the results for an undisclosed sum.
As for hard drives, lithium-ion batteries, liquid crystal displays and semiconductors themselves – there are similar stories to be told.
In each case, there was scientific brilliance and plenty of private sector entrepreneurship. But there were also wads of cash thrown at the problem by government agencies – usually US government agencies, and for that matter, usually some arm of the US military.
Silicon Valley itself owes a great debt to Fairchild Semiconductor – the company that developed the first commercially practical integrated circuits. And Fairchild Semiconductor, in its early days, depended on military procurement.
Of course, the US military didn't make the iPhone. Cern did not create Facebook or Google. These technologies, that so many people rely on today, were honed and commercialised by the private sector. But it was government funding and government risk-taking that made all these things possible.
That's a thought to hold on to as we ponder the technological challenges ahead in fields such energy and biotechnology.
Steve Jobs was a genius, there's no denying that. One of his remarkable side projects was the animation studio Pixar – which changed the world of film when it released the digitally animated film, Toy Story.
Even without the touchscreen and the internet and the Fast-Fourier-Transform, Steve Jobs might well have created something wonderful.
But it would not have been a world-shaking technology like the iPhone. More likely it would, like Woody and Buzz, have been an utterly charming toy.
Tim Harford is the FT's Undercover Economist. 50 Things That Made the Modern Economy was broadcast on the BBC World Service. You can listen online or subscribe to the programme podcast.
20/12/2016
Tweet with flashing images sent to epileptic writer
Image captionA still of the tweet which contained flashing images
Simon Wigglesworth, deputy chief executive at Epilepsy Action, said: "We are appalled that someone would go to these lengths to bring on a seizure in another person."
"Seizures are not only very distressing for the person experiencing them, but can also cause injury and, in the worst cases, be fatal," he added.
Mr Wigglesworth explained that photosensitive epilepsy is a type of epilepsy in which seizures are triggered by flashing or flickering light.
He warned that if this incident had happened in the UK it might have been a breach of the law, perhaps of the Computer Misuse Act.
Stefano Seri, a professor of clinical neurophysiology and developmental neuropsychiatry at Aston University, explained how the material in the tweet must have been carefully constructed.
"Abrupt changes in light intensity, or luminance, can trigger seizures. The most sensitive range is about 15-25 flashes per second," said Prof Seri.
"The picture would need to occupy most of the visual field. It would take some very sick people to do this, but technically, it is possible.
"Modern LED screens are not as provocative as older ones. It takes a very carefully designed stimulus to induce a seizure," Prof Seri added.
Mr Eichenwald is a prominent critic of US president-elect Donald Trump and had clashed with a Fox News host in a TV interview the day before receiving the flashing tweet.
He has also used Twitter to directly address complaints to the incoming US president.
After his wife tweeted about the seizure, the responses received included messages from staunch supporters of Mr Trump, some of whom mocked the situation.
Advice
Professor Seri advised those with epilepsy to be cautious when viewing unknown material online.
"You should sit far enough from the stimulus so it doesn't fill your vision and watch in a sufficiently lit room so the impact of any flashes is lessened," the professor advised.
"In a well lit room your baseline is higher, so changes are less dramatic. Don't open attachments from people you don't know."
There have been instances in the past of accidental seizure triggers being broadcast.
Image captionA scene from the Pokemon cartoon that allegedly caused children to have seizures in Japan
In December 1997 more than 600 children in Japan were taken to hospital after feeling sick while watching cartoons on television.
Some suffered convulsions, while others complained of eye irritation.
They were reported to have fallen ill after seeing a cartoon monster flash its eyes.
In June 2007 a segment of animated footage promoting the 2012 Olympics was removed from the organisers' website after fears were raised that it could trigger epileptic seizures.
In July 2015 Twitter was criticised for uploading two video adverts that featured a looping, rapid succession of flashing colours.
Eventually the company removed them.
Mr Eichenwald said he would be taking a break from Twitter.
19/12/2016
Uber defies demand to cease self-driving
15/12/2016
'One billion' affected by Yahoo hack
Image captionYahoo chief executive Marissa Mayer is negotiating the sale of Yahoo's core business to Verizon
In a statement, Verizon said that it would evaluate the situation as Yahoo investigates and would review the "new development before reaching any final conclusions".
Yahoo said on Wednesday that users should change their passwords and security questions.
The company said in a statement: "Yahoo believes an unauthorized third party, in August 2013, stole data associated with more than one billion user accounts."
Yahoo said this case "is likely distinct from the incident the company disclosed on September 22, 2016".
However, the latest breach was uncovered as part of continuing investigations by authorities and security experts into the previous hack, Yahoo said.
It is a further embarrassment to a company that was once one of the biggest names of the internet but which has failed to keep up with rising stars such as Google and Facebook.
Yahoo's valuation hit $125bn during the dot-com boom, but it has been losing ground since then despite several attempts to revive its fortunes.
---
Analysis: Dave Lee, North America technology reporter
Good grief, can things get any worse for Yahoo? A complete disaster. Embarrassing. Negligent?
We've come to accept that even the best systems get attacked by cyber criminals. But repeatedly? And in such great numbers? Something was seriously, seriously wrong.
Looking to the future, this is yet more concern for Verizon, which agreed to buy Yahoo before all of these disasters were made public.
It wanted the company because of its huge user-base and advertising reach. How many of those users are going to stick around when this kind of thing is going on? What's in it for them?
There's talk of a discount on the $4.8bn Verizon agreed to pay out. It's a game of how-low-can-you-go in the new year, you'd think.
14/12/2016
UK government 'must take action' on 5G
Image captionThe commission wants to see 5G available on transport
The necessary infrastructure for both should be in place by 2025, the report said.
The NIC predicted the need for tens of thousands of small wireless cells in towns and cities for devices to connect to the 5G network.
The idea is that these would have less range than the current mobile phone masts, but there would be more of them and they would be better positioned to ensure blanket coverage.
The report called on local authorities to work with network providers to make this possible.
The commission said the government and Ofcom must "ensure basic outdoor mobile services are available wherever we live, work and travel".
It said the two bodies should develop a "meaningful set of metrics that represent the coverage people actually receive and use these to determine a mobile universal service obligation setting out the minimum service level people should expect to receive".
Regulation in this area must "keep pace" with the rapid evolution of the mobile communications markets, in order to allow new firms to "provide services that the existing market has not delivered", the report added.
The village that just wants to share
Image captionThe commune will have small "fab labs", where things can be built
If the vision becomes reality, residents will share accommodation and workspace and produce their own food and goods.
It aims to accommodate 4,000 people in a 1-sq-km (0.4-sq-miles) site.
"It may resonate with a certain demographic, such as students and entrepreneurs, of which Heidelberg has many," says Prof Ratti.
But it will be open to everyone, and potential residents are likely to be invited to submit their reasons for wanting to join online, with the community voting on who comes to stay.
At the heart of the commune will be the Maker Square, an area dedicated to digital fabrication.
The maker movement is a trend for individuals and groups to create products from recycled electronics or other raw materials.
Increasingly, it is making use of modern technology such as 3D printing to create cottage industries that can mass produce.
Image captionThere will be a maker palace for artists and musicians
For Prof Ratti, a communal way of life is not just more sustainable but more sociable.
"If you live in a big city, you have access to lots of like-minded people, but in smaller communities you may only have a few thousand," he says.
"So why not create a like-minded community where it is easy to connect with people and sharing is the glue?"
His ideas were recently presented at German design exhibition Internationale Bauassstellung.
IBA, the group that will ultimately decide what happens on the site, also heard proposals from other groups, including a car-sharing service to connect the site to Heidelberg using self-driving shuttles.
"It's about a process of transformation that we want to trigger," says Prof Kees Christiaanse, who works on the project.
"Today, we are experiencing an atomisation of economic activity in ever smaller units that work complementary to large global firms.
"Increasingly, we are depending on highly specialised small-scale enterprises.
"Carlo proposes a kind of infrastructure for these cross-fertilisations to take place, which will be of great value for developing the site."
Whether the project can create a truly sharing community remains to be seen, but marketing expert Prof Russell Belk thinks it is important to work out why people want to share in the first place.
"A sharing economy is more about short-term rental, via services like Uber, Airbnb or Zipcar," he says.
"True sharing is more like what happens within the family and in some non-profit communal sites like CouchSurfing and Majorna [a volunteer car-sharing service in Gothenburg]."
"Part of the difference is whether there is a sense of community and caring rather than simply convenience.
"The commune sounds to be somewhere in-between.
"Most sharing ventures are not long-term operations unless they have economic as well as social incentives."
---
Experimental living around the world
The Farm: founded in Lewis County, Tennessee, by 300 "flower children" from San Francisco, this commune is now America's oldest. Still home to about 200 people, it maintains its original values of non-violence and respect for the environment.
Christiania: probably Europe's most famous, this commune is a neighbourhood of about 850 residents in the Danish capital, Copenhagen. Temporarily abandoned in 2011, it is now open again. It has been a source of controversy for the Danish government since it opened in 1971, largely because of its cannabis trade.
Arcosanti: this experimental town was built in the 1970s in an attempt to fuse architecture and ecology. All the buildings are designed to work in harmony with their environment, many reflect the changing seasons so a maximum amount of sunlight penetrates during the winter and very little during the hot summer. Many also make use of solar power for heating, cooling and electricity.
Auroville: this city in southern India set up in the late 1960s to work towards "human unity" and the "transformation of consciousness". Seen by many as a microcosm of experimental world peace, its 2,000 residents come from 40 different nations.
Findhorn eco-village: set up in the 1960s, this village in Scotland decided in the 80s to concentrate on being an environmentally friendly community and now claims to have the smallest environmental footprint of any town in the modern world. Buildings are made from found materials – such as whiskey barrels – and the village is powered by a wind turbine and a water treatment plant that makes use of algae, snails and plant life to purify the community's water supply.
06/12/2016
Uber launches artificial intelligence lab
Image captionDeploying self-driving cars could cut Uber's prices
"We're actually in very good shape," he told the BBC.
"Those sorts of things look bad from the outside."
Efficiency
Regardless, Uber is pushing forward with attempts to become a far more efficient transport company.
In the near term, that means the new AI team will be improving on the company's ability to predict when and where cars may be needed, drawing in data from various factors, such as weather forecasts.
Longer term it means accelerating the roll-out of Uber's self-driving car fleet, which is already being tested on roads in Pittsburgh and San Francisco.
Currently, those cars, made by Volvo, have a person sitting at the wheel ready to take control.
Image captionUber has teamed up with Volvo and is using a modified version of its XC90 sport utility vehicle
But eventually the aim is to remove the need for a human altogether, putting the several hundred thousand Uber drivers out of a job.
"Historically what you've seen is as technology has taken jobs away from people, new jobs have opened up," Mr Holden said.
Mr Marcus said job losses would be a necessary by-product to achieve safer roads.
"The way I think about it is there are trade-offs, but one of the plusses is that eventually the roads are going to be much safer for people."
Looking further into the future, Mr Marcus imagines a world of flying cars taking us to work.
"They're going to allow people to take long commutes at 75 or 150 mph where you'd otherwise get stuck in traffic. It's really, in a not-too-distant future, going to be something that is practical."
Uber recently published a white paper exploring the idea.
Real-world consequence
The Geometric Intelligence team will become Uber employees and most of the team will relocate to Uber's headquarters in San Francisco.
Image captionUber's most recent funding rounds value the firm as being worth more than $60bn (£47.2bn)
The start-up has up until now been funded by private investors and will maintain its close ties with New York University.
Mr Marcus said his company stood out because it used a different approach to artificial intelligence, one which takes inspiration from how a child's brain develops, particularly when discovering language.
Companies like Facebook and Google are investing heavily in so-called "deep learning". This technique involves feeding a computer millions of pieces of information, such as images, so it can learn patterns and begin to recognise objects and categorise what it sees.
Mr Marcus said he felt this approach fell short.
"Deep learning is not all that it's cracked up to be," he said.
"It's very good for certain problems, but it doesn't allow us to do the kind of inferences that people often do. We need next-generation techniques."
Existing technology is promising, he said, but has too low a success rate to be considered safe to use in self-driving cars.
"What I see is approximation with statistics. What people do is get something that works 80% of the time and they're happy. Nobody dies if I tell you you'd like this book and you don't."
Geometric Intelligence's approach is to work on systems that as well as using large data sets, can also be taught rules that mean it can learn without relying on having pre-inputted information.
"When you work on a problem with a real-world consequence like driving, you want to be as close to 100% as possible."
05/12/2016
Apple reveals self-driving car plans
Facebook Express Wi-fi goes live in India
24/11/2016
Facebook 'made China censorship tool'
Satellite to help planes avoid turbulence
21/11/2016
Facebook to increase UK employees by 50% in 2017
Image captionIt is not clear whether the new HQ will follow the tech trend for unusual office facilities
There has been speculation following the UK referendum vote to leave the EU that international companies may reconsider investing in the UK.
However, Facebook's announcement comes just a week after Google announced a £1bn investment in a new London headquarters and the creation of 3,000 new jobs by 2020.
London's mayor, Sadiq Khan welcomed the Facebook news.
"Facebook's decision to expand in London is further evidence that London's strength as a tech hub keeps on growing," he said.
"The capital's vibrant tech scene is the envy of Europe and Facebook's continuing commitment is another sign that London is open to talent, innovation and entrepreneurship from all four corners of the world."
17/11/2016
Twitter announces more tools for dealing with abuse
US demands electric cars make noise at low speed

Image copyright

AP
15/11/2016
How can Facebook fix its fake news problem?
Image captionOld space walk footage was broadcast "live" on Facebook
The site eventually sacked its human editors, instead relying solely on an algorithm to determine which stories were shown to be "trending".
Mr Zuckerberg says the company has "launched work enabling our community to flag hoaxes and fake news", but warns that such tools could be abused by people wishing to discredit opposing political views.
"Facebook has handed over responsibility to an algorithm, but it requires a lot of work," said Ms Bevan.
"It could prioritise authoritative sources such as the Financial Times or Washington Post, but then you have the question of how to define authority. It would be a huge project for Facebook and hard for them to do it in a way that they won't be accused of bias."
Should Facebook take control?
Some argue that Facebook's problem with fake news cannot be solved until the company is prepared to accept it is – in part – a modern day publisher of news.
"Not sure you can keep up the denial here," Matt Navarra of The Next Web wrote on Mark Zuckerberg's post. "You need to accept the power and influence Facebook has and use independent editors to deal with the issues here."
Mr Zuckerberg replied saying news and media were "not the primary things people do on Facebook".
"I find it odd when people insist we call ourselves a news or media company… we are serious about building planes to beam internet access, but we don't call ourselves an aerospace company."
But Ms Bevan suggested Facebook wanted to distance itself from the responsibilities that come with publishing news.
"It's now one of the biggest publishers on the planet – and with that comes responsibility," she told the BBC.
"News is something from which they're benefitting, so it's time to step up as a publisher.
"But they don't like that, it's expensive and opens up a can of worms for them."
09/11/2016
Hyperloop may become reality in Dubai
Image captionHyperloop One produced a graphic to show how its transport system compared with other options
Journey times between Dubai and Abu Dhabi are currently an hour or more.
It suggested that the system could also be used to cut journey times from Dubai to Riyadh to 48 minutes and from Dubai to Doha to 23 minutes.
Rival Hyperloop firm HTT signed a deal in March to bring its technology to Slovakia, aiming to link Bratislava with Vienna and Budapest.
The team at Hyperloop One is expected to unveil the first glimpse of what the transportation pods will look like soon.
Prof David Bailey, from the Aston Business School, said the plan in the United Arab Emirates was "more feasible" than previous announcements to use Hyperloop to connect Los Angeles and San Francisco.
"Building it through the desert means you can plan a route that is straight – it doesn't do curves very well – and the government there will see it as a way to be at the forefront of a new technology," he told the BBC.
But he added there remained a lot of "technical and other hurdles" to overcome, not least whether people would want to travel at such high speeds and in such a manner.
08/11/2016
Tesco Bank attack: What do we know?
Image captionUpdates to websites can introduce bugs and vulnerabilities that attackers can exploit
Was it hacked?
Tesco did not use the "H" word in its statement and in interviews its chief executive and other people speaking on behalf of the company have been careful in their choice of language.
It has said that the attack was "sophisticated" and that an initial investigation had revealed exactly what had happened.
So far, it has not shared that information but Tesco's actions in the wake of the weekend's events do help to narrow down the possibilities.
By letting customers withdraw cash from ATMs, use cards in shops and pay bills, it suggests that whatever went wrong does not involve the core computer systems underpinning Tesco bank. These systems used to be run by RBS but since 2008 Tesco has operated independently.
Security expert James Maude, from software company Avecto, said Tesco's decision to suspend online transactions combined with the information that so many people were hit at once clearly suggests problems with its website.
All too often, he said, maintenance or website updates can introduce errors and bugs that were not present before. Cyber-thieves are constantly scanning valuable websites to spot changes and will swoop if one emerges.
It might also be the case that a third party connected to Tesco had a security issue and attackers got in via that route, which has happened in some of the biggest attacks in recent memory.
Image captionTo improve protection on bank accounts use a unique, hard to guess password
Can it stop this happening again?
Most cybersecurity experts have a very jaundiced view of the world that they often sum up by saying: "Everything is broken and there is always a way in."
In short, there is no way that any organisation can keep it, and its customers and their data, safe all the time. Many organisations now assume they will be breached and set up monitoring systems to spot when that happens, while also training staff to react quickly to fix problems.
Nik Whitfield, from security firm Panaseer, said often firms were caught out by vulnerabilities that emerge in software they use rather than through a change they make. It can be hard for organisations to keep across these factors because they use so many software packages.
In addition, some of the bugs are found by malicious hackers who sell them to gangs that want to use them. In these cases, the first an organisation will know about a bug is when it is used against them.
Tesco has had problems with some other web-based systems in the past. In 2014, thousands of Tesco customers' net accounts were deactivated after login names and passwords were shared online.
In that case, Tesco said attackers had compiled the data by using details stolen from other sites, because some Tesco customers reused passwords.
How did it notice the suspicious activity?
Like many other banks, Tesco has automatic fraud-spotting systems that keep an eye on accounts and build up a picture of normal activity.
It is these kind of systems that can catch you out if you suddenly use your credit or debit card to buy lots of things from lots of different places in just a few minutes.
It is these monitoring systems that are believed to have alerted Tesco to the problems that led to it suspending the site and halting transactions.
Can I protect myself against these kinds of attacks?
We still do not know the details of what happened so it is difficult to give concrete advice. However, it is worth taking a few simple steps to protect your online account.
First, choose a good password and do not reuse one that you use elsewhere. Use the bank's two-factor authentication and keep an eye on the transactions carried out via your account.
Keep security software on your PC, phone or tablet up-to-date and be on the lookout for phishing emails that capitalise on news about any breach.
James Chappell, chief technology officer at computer security service Digital Shadows, said it was already starting to see cyber-gangs it monitors sending out spam posing as updates from Tesco security staff. The gangs are hoping to trick people into handing over their Tesco account details to let thieves take advantage.