Ryanair pilots reject bonus to work through cancellation crisis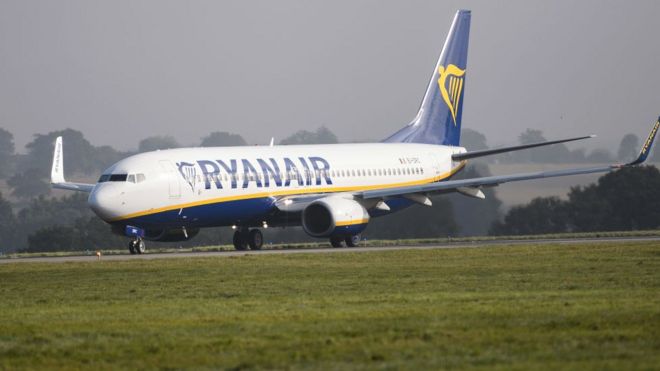 A group of Ryanair pilots has rejected a cash bonus to work extra days after the airline cancelled 2,100 flights because it "messed up" crew holidays.
In a letter seen by the BBC, pilot representatives from 17 of the company's 80 or so European bases have told bosses that most are not enthused.
They want new contracts and better working conditions instead.
Ryanair had offered captains a one-off payment of £12,000 or 12,000 euros, and first officers £6,000 or 6,000 euros.
But the letter said: "The pilot market is changing, and Ryanair will need to change the ways which the pilots and management work together to ensure a stable and common future for everyone".
New contracts, it says, "should help stop the large number of colleagues who are leaving for "greener pastures"
It also asks to bring in professional negotiators to help broker a deal.
They have given the airline until tomorrow to respond.
One pilot told me that this is their one chance to improve conditions at work.
The letter comes from staff based all over Europe including Germany, Italy, Holland, Belgium and Sweden.
In recent days I've been contacted by almost 20 current and former Ryanair pilots telling me that the company is losing unhappy crews quicker than it can replace them.
They all told me that a shortage of pilots is the key reason why so many flights have had to be cancelled in recent days.
But it is a claim strenuously denied by the airline's boss Michael O'Leary.
It seems that, for the first time, scattered Ryanair pilot reps are joining forces in some numbers – often making contact over social media – because they have spotted a chance to collectively bargain for new, improved contracts.
I asked Ryanair what they made of the counter-offer but they haven't got back to me yet.
The big question now is, if pilots decide to escalate things, say, a work to rule for example, will Ryanair be able to get through the next few weeks without having to cancel yet more flights?
At the weekend Ryanair decided to cancel 40 to 50 flights every day for the next six weeks.
Ryanair said earlier that it had sent out emails to 315,000 affected customers on Monday, telling them about flight changes, alternative flights, and refunds.
It said the fiasco was down to its own mistaken decision to force its pilots to take their remaining annual leave before the end of the year, rather than by the end of the financial year next March.
This means it does not have enough pilots to crew all its scheduled flights this month and next.