31/10/2017
India: Separated twin 'opens eyes' four days after surgery
17/10/2017
Restaurant chain 'cut sugary drink sales' with price rise
13/10/2017
Child and teen obesity spreading across the globe
10/10/2017
Gene test 'narrows down breast cancer risk'
27/09/2017
Vegetative-state patient responds to therapy
26/09/2017
Quitting daily aspirin therapy may increase second heart attack, stroke risk
Stopping long-term, low-dose aspirin therapy may increase your risk of suffering a cardiovascular event, according to new research in the American Heart Association's journal Circulation.
21/09/2017
UK scientists edit DNA of human embryos
Drugs cocktail 'cut HIV deaths by 27%'
20/07/2017
Tobacco firms 'hamper anti-smoking push'
14/07/2017
Coffee drinkers live longer – perhaps
12/07/2017
Contaminated blood scandal inquiry announced
07/07/2017
Spreading cancer caught on film
16/06/2017
EU nurse applicants drop by 96% since Brexit vote
14/06/2017
Drug that creates a 'real sun-tan' could prevent cancer
19/05/2017
'Fat but fit is a big fat myth'
17/05/2017
Road accidents biggest global killer of teenagers
16/05/2017
Yemen war: Emergency in Sanaa as cholera kills scores
Image captionChildren are especially vulnerable to the water-borne disease
A state of emergency has been declared in the Yemeni capital, Sanaa, after an outbreak of cholera killed scores of people.
Hospitals in the city, which is controlled by Houthi rebels, are crowded with cholera patients.
The Red Cross says the number of suspected cases in the country has tripled in a week to more than 8,500.
Yemen has been ravaged by hunger and civil war, allowing disease to spread rapidly.
Two-thirds of the population do not have access to safe drinking water, according to the UN.
Dominik Stillhart, director of operations at the International Committee of the Red Cross, told a news conference in Sanaa on Sunday that there had been 115 deaths from cholera nationwide from 27 April – 13 May.
"We now are facing a serious outbreak," he said.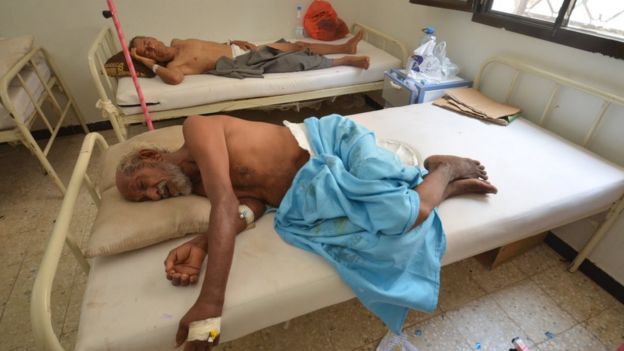 Sanaa has been worst hit, followed by the surrounding province of Amanat al-Semah, the World Health Organisation (WHO) says.
Cholera is a water-borne disease that is transmitted through contaminated water and food.
Symptoms include acute diarrhoea and vomiting. People with cholera can become very sick and, if left untreated, death can occur within hours.
Some 32,000 people have now been affected since October by the cholera outbreak, which subsided over the winter.
The WHO said last week that fewer than 45% of health facilities in Yemen were fully functioning.
Almost 300 hospitals or clinics have been damaged or destroyed in fighting between forces loyal to President Abdrabbuh Mansour Hadi – who is backed by a Saudi-led multinational coalition – and those allied to the Houthi rebel movement.
Since fighting escalated in March 2015, more than 8,010 people – mostly civilians – have been killed and about 44,500 others injured, the UN says.
The civil war has also left 18.8 million people in need of humanitarian assistance.
05/05/2017
Walking vs. Running — Which Is Better?
28/04/2017
Image captionAnti-pollution masks are becoming a more common sight in Europe's polluted cities
In another similar experiment, researchers asked three patients with clogged-up blood vessels to breathe in air containing tiny gold nanoparticles.
A day later, when the patients had part of their damaged blood vessels surgically removed, there was evidence of this gold building up in the diseased parts of vessels.
Researchers speculate that by accumulating in vulnerable areas of the body air pollution particles could worsen heart disease and stroke.
Dr Zongbo Shi, at the University of Birmingham, said: "This is a well designed and high quality study, and the results unequivocally showed that nanoparticles can travel from lungs to blood vessels and different organs.
"This research provides a missing link or mechanism between airborne nanoparticles exposure and their adverse health effects. "
But Prof Peter Dobson, at the University of Oxford, argues the study has a number of pitfalls, including the fact that gold does not match the chemistry of particles present in pollution.
And Mike Hawes of the Society of Motor Manufacturers and Traders said the industry had invested billions into reducing emissions and had drastically reduced or banished pollutants such as particulates.
Meanwhile Prof Jeremy Pearson, at the British Heart Foundation, which part-funded the study, said there was no doubt that air pollution was a killer that needed to be taken seriously.
But he cautioned more research was still needed to pin down the mechanism involved and firm up the evidence.
27/04/2017
Postpartum haemorrhage: Cheap lifesaver 'cuts deaths by a third'
Image captionUtako Okamoto in her lab in 1961
But they could not convince local doctors to perform a clinical trial for postpartum haemorrhage.
So instead it was picked up by a pharmaceutical company and used as a treatment for heavy periods.
And there the story nearly ended.
Eventually, a study was coordinated by the London School of Hygiene and Tropical Medicine in a collaboration of 193 hospitals mostly in Africa and Asia.
Prof Utako Okamoto died, aged 98, just after the 20,000th and final patient was enrolled on to the trial that would finally prove she had been right.
Lifesaving
It found tranexamic acid cut deaths by a fifth overall and by 31% in those given the drug within three hours of birth.
Prof Ian Roberts, one of the researchers, told the BBC: "We've got an important result.
"We found an inexpensive drug, given in a single shot, that reduces the risk of bleeding to death, and it should play a role in reducing maternal mortality around the world."
The World Health Organization said is would update its recommendations for treating postpartum haemorrhage treatment.
The findings would not have been a surprise to Utako.
The UK team went to visit the "physically small, but so switched-on firecracker" near the start of the trial.
Her husband had already died.
In a film they made, she told them: "It's going to be good, it's going to be effective.
"Without doing the research, I know it will be effective."
In the poverty of post-War Japan, she and her husband decided to start researching blood because they could donate their own samples to study.
"We wanted to work on something international, we wanted to discover new drugs to show our gratitude to humanity," she said.
"We thought that would be wonderful."
Prof Roberts says he was blown away and inspired by her and this is not the end of the journey.
The drug might be cheap, but getting it into hospitals around the world will still be a challenge.
Prof Roberts added: "It is an awful thing for a mother to die in childbirth.
"When we started the trial, the staff would cry hearing about babies left without their mothers.
"Making sure the treatment is available everywhere it can save a life is hugely important.
"We shouldn't have children growing up without a mother for lack of a drug that costs a dollar."
Dr Rizwana Chaudri, from Rawalpindi Medical College, said: "Women dying of postpartum haemorrhage, women brought dead to the hospital, there's so many of them.
"You can't even think of that in a developed world, but over here this is a daily thing that goes on and on and on."
26/04/2017
Exercise 'keeps the mind sharp' in over-50s, study finds
Image captionModerate physical exercise such as cycling or jogging can help boost brain power
Doing moderate exercise several times a week is the best way to keep the mind sharp if you're over 50, research suggests.
Thinking and memory skills were most improved when people exercised the heart and muscles on a regular basis, a review of 39 studies found.
This remained true in those who already showed signs of cognitive decline.
Taking up exercise at any age was worthwhile for the mind and body, the Australian researchers said.
Exercises such as T'ai Chi were recommended for people over the age of 50 who couldn't manage other more challenging forms of exercise, the study in the British Journal of Sports Medicine said.
Brain boost
Physical activity has long been known to reduce the risk of a number of diseases, including type-2 diabetes and some cancers, and it is thought to play a role in warding off the brain's natural decline as we enter middle age.
The theory is that through exercise the brain receives a greater supply of blood, oxygen and nutrients that boost its health as well as a growth hormone that helps the formation of new neurons and connections.
In this analysis of previous studies, researchers from the University of Canberra looked at the effects of at least four weeks of structured physical exercise on the brain function of adults.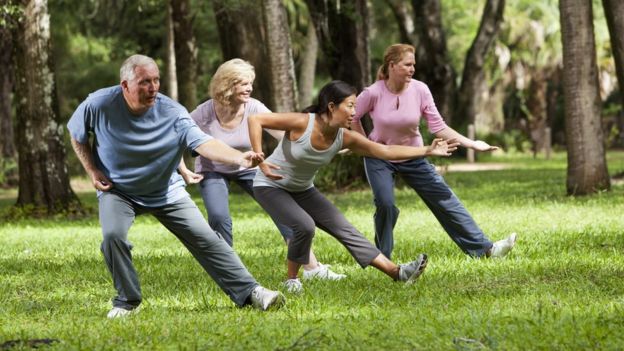 In a variety of brain tests, they found evidence of aerobic exercise improving cognitive abilities, such as thinking, reading, learning and reasoning, while muscle training – for example, using weights – had a significant effect on memory and the brain's ability to plan and organise, the so-called executive functions.
Joe Northey, study author and researcher from the Research Institute for Sport and Exercise at Canberra, said the findings were convincing enough to enable both types of exercise to be prescribed to improve brain health in the over-50s.
"Even if you are doing moderate exercise only once or twice a week there are still improvements in cognitive function, but the improvements were better the more exercise was done," he said.
He said people should be able to hold a conversation while doing moderate exercise.
NHS guidelines recommend that adults do at least 150 minutes of moderate aerobic activity every week and exercise the major muscles on two or more days a week.
Heavy shopping bags
Dr Justin Varney, lead for adult health and wellbeing at Public Health England, said any physical activity was good for brain and body.
"Whilst every 10 minutes of exercise provides some benefit, doing 150 minutes a week cuts the chances of depression and dementia by a third, and boosts mental health at any age.
"Doing both aerobic and strengthening exercises leads to a greater variety of health benefits."
He said cycling or walking to work could count as aerobic activity and carrying heavy shopping bags was one example of a good strength exercise.
Dr Dean Burnett, lecturer in neuroscience and psychiatry at Cardiff University, said the study gave a clearer picture of how exercise affected the brain – but there were still issues.
"It could lead to increased pressure for the 50-plus age group to exercise more in order to stay mentally healthy, which is good advice but also overlooks the fact that as we age it's increasingly difficult to engage in physical activity, as our bodies are simply less capable of it," he said.
"Physical exercise is one element of improved brain functioning, but not the whole story."
As well as staying physically active, Dr David Reynolds, from Alzheimer's Research UK, said it was equally important to look after our brains by staying mentally active, eating a balanced diet, drinking only in moderation and not smoking.
25/04/2017
Malaria: Kenya, Ghana and Malawi get first vaccine
Image captionThe vaccine has been tested extensively in more than 15,000 children
The world's first vaccine against malaria will be introduced in three countries – Ghana, Kenya and Malawi – starting in 2018.
The RTS,S vaccine trains the immune system to attack the malaria parasite, which is spread by mosquito bites.
The World Health Organization (WHO) said the jab had the potential to save tens of thousands of lives.
But it is not yet clear if it will be feasible to use in the poorest parts of the world.
The vaccine needs to be given four times – once a month for three months and then a fourth dose 18 months later.
This has been achieved in tightly controlled and well-funded clinical trials, but it is not yet clear if it can be done in the "real-world" where access to health care is limited.
It is why the WHO is running pilots in three countries to see if a full malaria vaccine programme could be started. It will also continue to assess the safety and effectiveness of the vaccination.
Dr Matshidiso Moeti, the WHO regional director for Africa, said: "The prospect of a malaria vaccine is great news.
"Information gathered in the pilot programme will help us make decisions on the wider use of this vaccine.
"Combined with existing malaria interventions, such a vaccine would have the potential to save tens of thousands of lives in Africa."
The pilot will involve more than 750,000 children aged between five and 17 months. Around half will get the vaccine in order to compare the jab's real-world effectiveness.
In this age group, the four doses have been shown to prevent nearly four in ten cases of malaria.
This is much lower than approved vaccines for other conditions.
It also cuts the most severe cases by a third and reduces the number of children needing hospital treatment or blood transfusions.
But the benefits fall off significantly without the crucial fourth dose.
Ghana, Kenya and Malawi were chosen because they already run large programmes to tackle malaria, including the use of bed nets, yet still have high numbers of cases.
Each country will decide how to run the vaccination pilots, but high-risk areas are likely to be prioritised.
Despite huge progress, there are still 212 million new cases of malaria each year and 429,000 deaths.
Africa is the hardest hit and most of the deaths are in children.
The pilots are being funded by: Gavi, the Vaccine Alliance, the Global Fund to Fight Aids, Tuberculosis and Malaria, Unitaid, the WHO and GSK.
Dr Seth Berkley, the chief executive of Gavi, said: "The world's first malaria vaccine is a real achievement that has been 30 years in the making.
"Today's announcement marks an important step towards potentially making it available on a global scale.
"Malaria places a terrible burden on many of the world's poorest countries, claiming thousands of lives and holding back economies.
"These pilots are crucial to determining the impact this vaccine could have on reducing this toll."
12/04/2017
Is Komodo dragon blood the key to new antibiotics?
22/03/2017
'Wide awake drunk' on energy drinks and alcohol mix
17/03/2017
B vitamins may have 'protective effect' against air pollution
Image captionWood burning stoves are also significant sources of particulate matter in the air
Scientists have long suspected that PM2.5 causes what are termed epigenetic changes in our cells that can damage our health.
The genes in our DNA contain the instructions for life, but epigenetics controls how those instructions are used – it's like the relationship between an mp3 track and the volume control, you can only hear the musical notes (genes) when you dial up the volume (epigenetic changes).
The study shows the very presence of environmental factors like air pollution seems to alter genes in the immune system at the epigenetic level – switching them on or off, and inhibiting our defences.
Researchers had already seen that nutrients could somehow stop this process in animal studies with the chemical Bisphenol A.
Now in this new human trial, an international team of scientists wanted to see if exposure to concentrations of PM2.5 could be mitigated by a daily B vitamin supplement containing 2.5mg of folic acid, 50mg of vitamin B6, and 1mg of vitamin B12.
Ten volunteers were tested initially exposed to clean air while given a placebo to measure their basic responses. The same volunteers were later tested with large doses of B vitamins while exposed to air containing high levels of PM2.5.
The researchers found that a four week B vitamin supplementation limited the PM2.5 effect by between 28-76% at ten gene locations. They found a similar reduction in impact on the mitochondrial DNA, the parts of cells that generate energy.
"Where we quantify the effect, it is almost close to a complete offset on the epigenome of the air pollution," said Jia Zhong from Harvard School of Public Health, who led the study.
"On the mitochondrial DNA side, it also offset a big proportion of it."
Image captionConcerns over air quality have seen street protests in many countries including Mongolia
However, the authors caution that their study, while observing a real effect, has many limitations. As well as the small number of participants, there was little information on the size of the B vitamin dose that elicited the response.
"We didn't have different doses and the doses we used were quite high, higher than a normal pregnancy suggested intake. So it is quite high but at the same we did observe this protective effect," said Jia Zhong.
Other scientists in the field, while welcoming the study, agree that caution is needed.
"The fact that they find a coherent story in only 10 subjects is promising, but clearly warrants further follow-up in larger populations especially considering the ethnic variability in this study," said Prof Carrie Breton from the University of Southern California, who wasn't involved in the report.
"While I think it is great that doing something as easy as taking a vitamin would help protect against air pollution harm, the public health goal still needs to be one of reducing air pollution to a level that is not harmful," she said in a statement.
The authors acknowledge that this was a pilot study to test a hypothesis and they are not in a position to make any deductions about whether B vitamins could be used in clinical practice as a means of protecting against air pollution.
More and bigger studies are needed – and they need to be done in environments where people have a major exposure to PM2.5.
"I think that B vitamins are a likely hope that we can potentially utilise as an individualised treatment to complement the policy regulations to minimise the impacts of air pollution," said Jia Zhong.
"A more sophisticated study is urgently needed in Beijing or India or Mexico just to see whether those who are chronically exposed, if the protective effect can still be effective."
The study has been published in the journal Proceedings of the National Academy of Sciences (PNAS).
15/03/2017
Trump healthcare plan 'will strip insurance from 14 million'
14/03/2017
Paralysis inspires MS discovery
13/03/2017
Raw milk cheese linked to two listeria deaths in US
Image captionListeria bacteria
Some consumers say raw milk has more flavour and makes better cheese. Others choose unpasteurised milk as part of a broader shift away from processed foods, which are increasingly seen as unhealthy.
However the CDC says raw milk presents one of the biggest risks to consumers, who may face "many days of diarrhoea, stomach cramping and vomiting" and in rare cases kidney failure, paralysis, chronic disorders and even death.
The bacteria in raw milk can be especially dangerous to those with weak immune systems, older people, pregnant women and children, the CDC says.
Raw milk products are illegal in 20 US states, can be obtained from farms in 25 states and are available in shops in 13 states. EU countries make their own laws but products made with raw milk must be labelled. About a fifth of French cheese is made using raw milk.
In the UK, the sale of raw cow's milk is banned in Scotland but products made from it can be bought. Raw cow's milk can be bought from producers in the rest of the country.
10/03/2017
Can sweat patches revolutionise diabetes?
09/03/2017
Why young people are now less likely to smoke
03/03/2017
Artificial 'embryos' created in the lab
Image captionProf Goetz's team has a strong track record of research in embryology
The same team recently developed a technique that allows blastocysts to develop in the lab up to the legal limit of 14 days in the UK.
They have already grown these artificial mice embryos to the equivalent stage, and they are now working on using the same technique to develop artificial human embryos.
If they are successful, it could open the door to experimenting on embryos beyond the current 14-day limit.
Prof Jonathan Montgomery, an expert in health care law, at University College London, said: "It wouldn't, obviously, be within the current regulatory framework, although we would need to think carefully about how we should oversee it.
"It is early days, but if they do manage to not only create the partnership that's needed to get started but also the nutrition that's needed to sustain it, you could see that we are contemplating the opportunity of developing human embryos for quite a substantial period in vivo."
Prof Robin Lovell-Badge, of The Francis Crick Institute, said some structures seen in early embryos had failed to develop.
This, and other problems, would need to be solved before the technology could be developed further.
He also said it was unlikely that human equivalents could be developed because the necessary cells from human embryos were not available.
24/02/2017
Fruit and veg: For a longer life eat 10-a-day
Image captionHarriet is a big fan of spinach
Harriet Micallef, from Chippenham, says she often manages eight to 10 portions a day and has multiple portions of spinach every day.
She told the BBC: "I have a lot, I don't ever have a meal without veg or salad so eight to 10 portions is a regular thing."
She starts her day with a veg-packed omelette containing spinach and sometimes avocado or tomatoes.
Harriet's salad-based lunch is also packed with a mix of veg and her evening meals tend to be stir fries or stews.
Snacks during the day include blended fruit smoothies or peppers dipped in hummus.
She added: "It's definitely healthy, if you've got loads of colours on your plate then you're pretty much okay."
The results, published in the International Journal of Epidemiology, also assessed the risk of dying before your time.
Compared with eating no fruit or veg a day, it showed:
200g cut the risk of cardiovascular disease by 13% while 800g cut the risk by 28%

200g cut the risk of cancer by 4%, while 800g cut the risk by 13%

200g cut the risk of a premature death by 15%, while 800g cut the risk by 31%
The researchers do not know if eating even more fruit and veg would have even greater health benefits as there is little evidence out there to review.
Dr Dagfinn Aune, one of the researchers, said: "Fruit and vegetables have been shown to reduce cholesterol levels, blood pressure, and to boost the health of our blood vessels and immune system.
"This may be due to the complex network of nutrients they hold.
"For instance, they contain many antioxidants, which may reduce DNA damage and lead to a reduction in cancer risk."
However, many people struggle to even eat the five a day (400g) recommended by the World Health Organization.
In the UK, only about one in three people eats enough.
Image captionHeather is a vegan who loves sweet potato curry
Heather Saunders, 24 and from Oxford, routinely manages nine or 10 portions a day since becoming vegan.
She has two pieces of fruit with breakfast, a "massive pot" of roasted vegetables at lunch and then at least four vegetables in curries or chillies in the evening.
She told the BBC: "It is about making a conscious decision, I feel fuelling myself with plant-based foods is a more healthy way to sustain myself."
Her tips for anyone trying to eat more is to do it gently: "Maybe decide to have one or two meat-free days a week and phase more veg in, I quite like a sweet potato curry with spinach and chickpeas."
Dr Aune said the findings did not mean the five-a-day message needed to change.
He told the BBC: "There are many different considerations if changing policy, it's not just the health effects – is it feasible?
"But our findings are quite clear in that they do support five a day, but there are even some further benefits for higher intakes."
Dr Alison Tedstone, chief nutritionist at Public Health England, said: "The five-a-day target is the foundation of a healthy balanced diet and is an achievable way to help prevent a number of diseases.
"Whilst consuming more than five portions of fruit and vegetables a day may be desirable… adding pressure to consume more fruit and vegetables creates an unrealistic expectation."
---
Your questions answered
Jonathan Shorney asked: "I eat a lot of apples, but that amounts to a lot of sugar. Could that amount of sugar be harmful?"
Sugar seems to have become public enemy number one in the past few years. But it is important to remember the "war on sugar" is actually a "war on free sugar".
This includes sugars added to food as well as honey or those liberated in making fruit juices.
However, this does not include any naturally occurring sugars in fresh fruit and vegetables and the World Health Organization says "there is no reported evidence of adverse effects of consuming these sugars".
Mike asked: "Do pulses contribute to the 10?
Yes they do. All kinds of beans from kidney to cannellini as well as lentils count as a single portion according to Public Health England.
Gary Kruger asked: "Should fruit and vegetables be heavily subsidised by the government to encourage further consumption?
This is not being seriously considered, but something kind of similar is happening.
Rather than making the healthy stuff cheaper, a sugar tax will make sugar-sweetened beverages more expensive with the aim of shifting buying habits.
There is no VAT on fruit and veg, but the British Medical Association has called for the government to go further and use the proceeds of a sugar tax to discount fruit and veg.
However, it is not clear how big a health impact there could be without knowing who it would be for (everyone or just the poor), how big the discount would be and then how that would change shopping habits.
---
Harriet, who started cooking family meals at the age of 12, thinks more should be done to get children eating more.
"I think it comes from schooling and the traditional British meat and two veg.
"I think if you teach children to always have something green on their plate in addition then they'll naturally start having more.
"There's just so many different veg that people don't have like bean sprouts and chard."
Not all of the 95 studies that were analysed fully accounted for other aspects of lifestyle, such as exercise levels, that could also play a role in prolonging lives.
However, Dr Aune said the conclusions were "quite robust".
23/02/2017
Brain scans 'may spot teen drug problems'
22/02/2017
Life expectancy to break 90 barrier by 2030
21/02/2017
Risky treatment can stop multiple sclerosis for years
Image captionMark Rye says he feels lucky to have been given the chance to have the treatment
"It was a hard decision, knowing what could go wrong. My wife and I discussed it for many, many hours. We've got small children and I didn't want my MS to get worse and end up in a wheelchair.
"I did this to halt the condition and so that I can be there for my children, who are still so young. I want to be able to play rugby and football with them as they grow up."
What is not clear is for how long the therapy might ultimately work.
Freeze frame
MS is not fatal, but it is incurable.
The disease causes the immune system to attack the protective coating of nerves in the brain and spinal cord, which can create problems with a person's vision, walking and balance.
Treatments aim to slow or stop the attack.
Researchers from Imperial College London gathered data from 25 centres in 13 countries that have been trialling the radical therapy known as autologous haematopoietic stem cell transplantation or AHSCT.
The idea behind the one-off treatment is to reset the immune system to stop it from attacking the body. But it requires toxic drugs to kill off existing cells in the patient's bone marrow, which is unpleasant and hazardous.
The medical trial data gives doctors and patients a better idea about who might benefit from the treatment.
The findings suggest that patients who are younger, who are not responding to other MS drugs and who have relapsing MS, might benefit from AHSCT.
Lead investigator Dr Paolo Muraro said the risks must be weighed up against the benefits.
"We previously knew this treatment reboots or resets the immune system – and that it carried risks – but we didn't know how long the benefits lasted.
"In this study, which is the largest long-term follow-up study of this procedure, we've shown we can 'freeze' a patient's disease – and stop it from becoming worse, for up to five years.
"However, we must take into account that the treatment carries a small risk of death and this is a disease that is not immediately life-threatening."
Advanced clinical trials are already under way to test how well AHSCT works compared to existing treatments for MS.
Last year, the BBC's Panorama programme was given exclusive access to several patients who have undergone the stem cell transplant.
Steven Storey was diagnosed with MS in 2013 and, within a year, went from being an able-bodied athlete to needing a wheelchair and losing sensation in much of his body.
He said: "I went from running marathons to needing 24-hour acute care. At one point I couldn't even hold a spoon and feed myself."
Within a few days of the transplant he was able to move his toes, and after four months he could stand unaided.
AHSCT is not routinely available on the NHS. If anyone with MS is considering it they should speak to their neurologist, advises the UK MS Society, which has been funding this and other research.
17/02/2017
Vitamin D pills 'could stop colds or flu'
Image captionThere are calls to introduce Vitamin D directly into food
Trials on using supplements to prevent infections have given mixed results, so the researchers pooled data on 11,321 people from 25 separate trials to try to get a definitive answer.
The team at Queen Mary University of London (QMUL) looked at respiratory tract infections – which covers a wide range of illnesses from a sniffle to flu to pneumonia.
Overall, the study said one person would be spared infection for every 33 taking vitamin D supplements.
That is more effective than flu vaccination, which needs to treat 40 to prevent one case, although flu is far more serious than the common cold.
There were greater benefits for those taking pills daily or weekly – rather than in monthly super-doses – and in people who were deficient in the first place.
Why is vitamin D important?
Its main function is to regulate the amount of calcium and phosphate in the body, which are vital for the growth and maintenance of healthy bones, teeth and muscles.
In extreme cases, low levels can lead to rickets in children – where the bones become soft and weak and misshapen as they continue to grow.
In adults, vitamin D deficiency can lead to osteomalacia – causing severe bone pain and muscle aches.
But there is a balance – too much vitamin D can lead to high levels of calcium in the blood which can cause heart and kidney problems.
Anyone with a chronic condition or taking medication should seek advice from their doctor.
One of the researchers, Prof Adrian Martineau, said: "Assuming a UK population of 65 million, and that 70% have at least one acute respiratory infection each year, then daily or weekly vitamin D supplements will mean 3.25 million fewer people would get at least one acute respiratory infection a year."
PHE already advises everyone to take vitamin D supplements in autumn and winter for the sake of healthy bones and muscles.
They are recommended all year round for some people who get little sunlight on their skin, including people in care homes or those who cover up.
Image captionVitamin D is made naturally by people's bodies – if they get plenty of sunlight
However, there is considerable debate about the importance of the latest study.
Prof Louis Levy, the head of nutrition science at PHE, said: "The evidence on vitamin D and infection is inconsistent and this study does not provide sufficient evidence to support recommending vitamin D for reducing the risk of respiratory tract infections."
But Prof Martin Hewison, from the University of Birmingham and the Society for Endocrinology, said the findings were "striking".
"I agree with the authors that this study supports a new indication for vitamin D beyond its established benefits for bone health," he added.
And the research wing of the NHS, the National Institute for Health Research which funded the study, said the findings were "worthy of serious further debate".
Ultimately, the researcher team at QMUL want vitamin D to be added to food like in the US where milk is fortified.
Prof Martineau said: "Vitamin D fortification of foods provides a steady, low-level intake of vitamin D that has virtually eliminated profound vitamin D deficiency in several countries.
"By demonstrating this new benefit of vitamin D, our study strengthens the case for introducing food fortification to improve vitamin D levels in countries such as the UK where profound vitamin D deficiency is common."
15/02/2017
Cancer drugs may be delayed after Brexit, say experts
14/02/2017
Should I worry about arsenic in my rice?
Image captionRice is grown under flooded conditions, which contributes to arsenic content
Rice however, is different from other crops, because it's grown under flooded conditions. This makes the arsenic locked in the soil more readily available, meaning that more can be absorbed into the rice grains.
'Dose dependent'
This is why rice contains about 10-20 times more arsenic than other cereal crops. But are these levels high enough to do us any real harm?
"The only thing I can really equate it to is smoking," says Prof Andy Meharg of Queen's University Belfast, who has been studying arsenic for decades. "If you take one or two cigarettes per day, your risks are going to be a lot less than if you're smoking 30 or 40 cigarettes a day. It's dose-dependent – the more you eat, the higher your risk is."
He believes that the current legislation isn't strict enough, and that more needs to be done to protect those who eat a lot of rice.
Eating a couple of portions of rice a week isn't putting an adult like me at high risk, but Prof Meharg is concerned about children and babies.
Image captionTesting rice for arsenic levels
"We know that low levels of arsenic impact immune development, they impact growth development, they impact IQ development," he says.
Because of this, the legislation is stricter around products specifically marketed at children – but many other rice products that they may also eat, such as puffed rice cereals, can contain adult levels of arsenic.
It sounds quite scary, even if you don't eat lots of rice, but there's an easy solution – a way to cook rice that dramatically reduces the arsenic content.
Now, some ways of cooking rice reduce arsenic levels more than others. We carried out some tests with Prof Meharg and found the best technique is to soak the rice overnight before cooking it in a 5:1 water-to-rice ratio.
That cuts arsenic levels by 80%, compared to the common approach of using two parts water to one part rice and letting all the water soak in. Using lots of water – the 5:1 ratio – without pre-soaking also reduced arsenic levels, but not by as much as the pre-soaking levels.
So, while I would now think twice about feeding young children too much rice or rice products, I'm not going to stop eating rice myself. I will, however, be cooking it in more water and, when I remember, leave it to soak overnight.
09/02/2017
Almost two-thirds of children worry 'all the time'
Image captionGirls worry more about their looks, say the researchers
There was a gender divide, with 36% of girls worrying about being bullied, compared with 22% of boys.
More girls (28%) worried about their looks than boys (18%).
But boys (24%) were more likely to worry about being angry than girls (16%).
The most common coping strategies were talking to family members (72%) or to friends (65%), while 65% of boys calmed themselves by playing computer games compared with 39% of girls.
Join the conversation – find us on Facebook
Adult help
More than 80% of the children surveyed said the best way for adults to help was to listen sympathetically and pupils said it was important to be kind to anxious classmates. .
"I give them a hug and tell them not to worry and everything is OK," said one 10-year-old.
The charity's chief executive, Catherine Roche, said primary school was often characterised as innocent and happy.
"But in reality we know that young children can worry about a lot of things, whether it's something going on at home, with their friends, or even about bad things happening in the world.
"It's perfectly normal to worry from time to time, but if these worries become more serious or persistent, it's important that children know where they can turn for help.
"Schools and families play a crucial role in ensuring that children learn to look out for each other and know how to get help if they need it."
Some names have been changed.
08/02/2017
Gene therapy: Deaf to hearing a whisper
Image captionLeft: Normal ear hairs. Middle: Defective ear hairs. Right: Repaired ear hairs.
But in Usher syndrome they become disorganised – severely affecting hearing.
The researchers developed a synthetic virus that was able to "infect" the ear with the correct instructions for building hair cells.
Experiments showed that once profoundly deaf mice could hear sounds down to 25 decibels – about the volume of a whisper.
Dr Gwenaelle Geleoc told the BBC: "We were extremely surprised to see such a level of rescue, and we're really pleased with what we have achieved."
There are about 100 different types of genetic defect that can cause hearing loss. A different therapy would be needed for each one.
Dr Holt told the BBC News website: "We've really gotten a good understanding of the basic science, of the biology of the inner ear, and now we're at the point of being able to translate that knowledge and apply it to human patients in the very near future."
One of the big questions will be whether the synthetic virus is safe.
It was based on adeno-associated virus, which has already been used in other forms of gene therapy.
The researchers also want to prove the effect is long-lasting – they know it works for at least six months.
There are also questions about the "window of opportunity". While the therapy worked in mice treated at birth, it failed when given just 10 days later.
Dr Ralph Holme, the director of research at Action on Hearing Loss, said: "This research is very encouraging.
"However, there is a concern that delivering this gene therapy at birth to babies with Usher may be too late [as the ears are more developed in people than mice by birth].
"The technology may be better suited to treating more progressive forms of hearing loss."
06/02/2017
Hospital operation 'long waiters' rise by 163%
03/02/2017
Misophonia: Scientists crack why eating sounds can make people angry
01/02/2017
Completely 'locked-in' patients can communicate
31/01/2017
Girls lose faith in their own talents by the age of six
30/01/2017
Robots could help solve social care crisis, say academics
27/01/2017
Artificial intelligence 'as good as cancer doctors'
26/01/2017
Personality linked to 'differences in brain structure'
25/01/2017
World's smallest MRI helps tiny babies
Image captionThis is one of only two purpose-built neonatal MRI machines in the world
Doctors in Sheffield are pioneering the use of a compact MRI scanner for imaging the brains of premature babies.
The machine, at the Royal Hallamshire Hospital, is one of only two purpose-built neonatal MRI scanners in the world.
At present, ultrasound is normally used to scan the brains of newborns.
Prof Paul Griffiths, of the University of Sheffield, said MRI was better at showing the structures of the brain and abnormalities more clearly.
Clearer images
So far about 40 babies have been imaged in the MRI scanner, which was built by GE Healthcare with funding by the Wellcome Trust.
One of them, Alice-Rose, was born at 24 weeks and had two bleeds in the brain.
Her parents, Shaun and Rachael Westbrook, said the MRI scan was very helpful.
Shaun told me: "It's a much crisper image and a lot easier to understand than the ultrasound."
Rachael added: "It's been a rollercoaster since Alice-Rose was born on 6 November: not everything was fully formed, and she still weighs only 2lb 13oz (1.28kg).
"The MRI was reassuring as it meant you got a better look at her brain."
Ultrasound of the brain is possible in newborn babies only because the bones in their skull are not yet fused.
Ultrasound v MRI
The sound waves can travel through the two fontanelles – the soft spots between the bones.
Prof Griffiths said: "Ultrasound is cheap, portable and convenient, but the position of the fontanelles means there are some parts of the brain which cannot be viewed.
"MRI is able to show all of the brain and the surrounding anatomy, making the images easier to explain to parents.
"From a diagnostic point, the big advantage is that MRI is able to show a wider range of brain abnormalities, in particular those which result from a lack of oxygen or blood supply."
Image captionUltrasound image (left) of Alice-Rose with MR image (right). The MRI shows the structures of the brain with greater clarity
MRI scans are rarely performed on severely premature babies because the risks involved in transferring and handling a sick infant can outweigh the benefits.
Prof Griffiths said: "MRI machines are huge, heavy objects which are sited in the basement or ground floor of hospitals, whereas maternity units are usually higher up, or in a completely different building, so it can mean a complicated journey to get a baby to and from the scanner."
Evelina Children's Hospital in London has a full-size MRI scanner within the neonatal intensive care unit.
The compact baby MRI machine at the Royal Hallamshire is not much bigger than a washing machine and just metres away from the neonatal intensive care unit, meaning that specialist staff are on hand in case of problems.
The concept for a dedicated neonatal scanner was originally developed more than a decade ago by Prof Griffiths and Prof Martin Paley, of the University of Sheffield.
Two prototype 3 Tesla neonatal MRIs were eventually built – the other is in Boston Children's Hospital in Massachusetts – although it is no longer in use.
Neither machine has regulatory approval for clinical use, and both remain purely for research.
Prof Griffiths said the next step would be to do a trial in premature babies to show definitively that MRI produces a better diagnosis and whether it altered the clinical management of children.
It is not known how much a neonatal MRI machine would cost, should the system eventually get commercialised, but full-size scanners are typically priced at several hundred thousand pounds.
Cincinnati Children's Hospital has a 1.5 Tesla neonatal MRI scanner that was adapted from adult orthopaedic use.
23/01/2017
Light at night may disrupt sleep and health
19/01/2017
Vaccines for three deadly viruses fast-tracked
Image captionThe world was not prepared enough for Ebola, experts say
Image captionThe first fatality from Mers was recorded in June 2012 in Saudi Arabia
Cepi wants to continue that momentum and develop vaccines for other viruses so that by the time an outbreak hits, experimental vaccines are ready to be sent to affected areas for large human trials that can establish how effective the vaccine is.
Lassa, Middle East Respiratory Syndrome (Mers) and Nipah virus are "top of the list" of 10 priority diseases that the World Health Organization (WHO) has identified as potentially causing the next major outbreak.
Dr Marie-Paule Kieny, assistant director-general of the WHO, said: "Besides the known threats – such as Ebola and others – there are also all those viruses that are known but are thought to be very benign.
"They could mutate and become more dangerous for humans.
"Then there are the things that are completely unknown to us at the moment," said Dr Kieny.
The lottery of viruses that could hit us next makes it very difficult to plan for the future.
Pharmaceutical companies aren't lining up to invest in these little-known viruses because there is no commercial market for them.
However, some have come on board with this new alliance, including GSK and Johnson and Johnson.
"We've got lucky so far," said Jeremy Farrar, because recent outbreaks haven't become airborne.
But he said a far more contagious version of an Ebola like virus could emerge.
"I could cough it over you today and you could cough it over someone tomorrow and it could spread very quickly.
"That puts the world in a very vulnerable place."
13/01/2017
Brain activity 'key in stress link to heart disease'
Image captionThe amygdala is one of the most primitive parts of the brain linked to strong emotions, such as fear and anger.
What does the amygdala do?
It's the part of the brain that prepares you for fight or flight, becoming activated by strong emotional reactions.
The amygdalae (because there are two of them – one on each side of the brain) are almond-shaped groups of cells located deep within the medial temporal lobes of the brain.
In humans and animals, the amygdala is linked to responses to both fear and pleasure.
The term amygdala – which means almond in Latin – was first used in 1819.
---
Dr Tawakol added: "Eventually, chronic stress could be treated as an important risk factor for cardiovascular disease, which is routinely screened for and effectively managed like other major cardiovascular disease risk factors."
Commenting on the research, Dr Ilze Bot, from Leiden University in the Netherlands, said more and more people were experiencing stress on a daily basis.
"Heavy workloads, job insecurity or living in poverty are circumstances that can result in chronically increased stress, which in turn can lead to chronic psychological disorders such as depression."
Emily Reeve, senior cardiac nurse at the British Heart Foundation, said reducing the risk of heart disease and stroke from stress normally focused on controlling lifestyle habits such as smoking, drinking too much alcohol and overeating – but this should change.
"Exploring the brain's management of stress and discovering why it increases the risk of heart disease will allow us to develop new ways of managing chronic psychological stress.
"This could lead to ensuring that patients who are at risk are routinely screened and that their stress is managed effectively."
11/01/2017
Weekend exercise alone 'has significant health benefits'
Image caption"Weekend warriors" are more likely to be men than women
How much physical activity should I do?
People aged 19-64 should try to do:
at least 150 minutes of moderate aerobic activity, such as cycling or fast walking every week, and

strength exercises (such as lifting weights) on two or more days a week that work all the major muscles
Or
75 minutes of vigorous aerobic activity, such as running or a game of singles tennis every week, and

strength exercises on two or more days a week that work all the major muscles
Or
a mix of moderate and vigorous aerobic activity every week, such as two 30-minute runs plus 30 minutes of fast walking, and

strength exercises on two or more days a week that work all the major muscles
Source: NHS Choices and Public Health England
What do you think? Join the debate on the BBC Lifestyle & Health Facebook page.
---
Dr Gary O'Donovan, study author and expert in physical activity and health, from Loughborough University, said the key was doing exercise that was "purposeful, and done with the intention of improving health".
"You are not going to fidget or stand your way to health," he said.
He added that a commitment to an active lifestyle was usually accompanied by other healthy lifestyle options, which made a positive difference regardless of body mass index (BMI).
But Dr O'Donovan said no-one yet knew the best way of meeting the weekly recommended exercise total.
'Every little counts'
The study cannot show a direct link between physical activity and a reduction in health risks in individuals.
But extensive research has shown that exercise and a healthy diet can reduce the risk of a range of diseases – such as cancer, heart disease and type-2 diabetes – as well as helping to control weight, blood pressure and reduce symptoms of depression.
Justin Varney, national lead for adult health and wellbeing at Public Health England (PHE), said: "The maximum health benefits are achieved from 150 minutes of moderate activity per week.
"However, every little counts and just 10 minutes of physical activity will provide health benefits."
PHE's How Are You quiz gives you a health score and links to free local information, apps and tools to improve that score.
10/01/2017
Diet high in red meat linked to inflammatory bowel condition
Scientists say the study does not prove red meat causes diverticulitis but suggest it might be by affecting the bacteria in our gut
10/01/2017
Mental health reforms to focus on young people, says PM
Image captionMany of the measures aim to help young people and children
Health Secretary Jeremy Hunt told the BBC care for children and young people was a "black spot" that needed urgent attention as the pressures of social media, cyber bullying and a big increase in self-harming was a "massive worry for parents".
Mental health charity Sane said the plans needed to "be matched by substantially increased funds to mental health trusts" while Mind said it was "important to see the prime minister talking about mental health" but the proof would be in the difference it made to patients' day-to-day experiences.
Dr Sangeeta Mahajan, whose 20-year-old son Sargaar killed himself after being diagnosed with bipolar disorder, said better access to services was essential.
"They don't discharge patients with adequate information," she said. "The doors were closed to us.
"We were told you either go to A&E or your GP and that is the only way you can come back to us.
"We had no direct access back to the specialist services. That is wrong."
Bed shortages have meant some patients have had to travel hundreds of miles for treatment.
Fiona Hollings, 19, was treated in a specialist eating disorder unit for her anorexia in Glasgow – nearly 400 miles away from her family home in High Wycombe, Buckinghamshire.
Raising the profile of mental health
By Hugh Pym, BBC health editor
Mental health campaigners certainly recognise the significance of the latest initiative headed by the prime minister.
Theresa May's focus on mental illness in her first major speech on health will in itself raise the profile of the issue and reaffirm the drive to achieve true "parity of esteem" with physical health.
Promoting mental health first aid training in schools in England illustrates the prime minister's desire to see this as more than an NHS-only issue.
But there is no new Treasury money for the plans. Funding for care is still challenging. NHS Providers, representing mental health and other trusts, predicts the share of local NHS budgets devoted to mental health will fall next year.
Ministers will argue money isn't everything but it remains an unresolved part of the mental health agenda.
Professor Sir Simon Wessely, president of the Royal College of Psychiatrists, welcomed Mrs May's "new and bold vision", but added: "We have a long way to go before mental health services are on an equal footing with those for physical disorders."
Businesses also welcomed the workplace initiatives.
Simon Walker, director general at the Institute of Directors, said employers had "a real role to play" in ensuring the mental health of their workforce.
But while education leaders backed the ideas that focused on young people, they also had concerns.
Malcolm Trobe of the Association of School and College Leaders, said the major problem schools faced was a lack of access to local specialist NHS care and said government plans had to be "backed up with the funding".
Russell Hobby, of school leaders' union NAHT, agreed: "Rising demand, growing complexity and tight budgets are getting in the way of helping the children who need it most."
Liberal Democrat Norman Lamb, a former health minister, said Mrs May was announcing policies already agreed under the coalition government and called it "a puny response" to "cover up for this government's failure" on delivering, while Barbara Keeley, Labour's shadow minister for mental health, questioned why funding was not being ring fenced.
Mr Hunt said the government had endured a "slightly patchy start" with funding, but that with about £1bn more being spent on mental health than two years ago things were "going in the right direction".
In her speech the prime minister also described her wish to create a "shared society", with the state taking a greater role in ending "unfairness".
The emphasis on a "shared society" marks a contrast with her predecessor David Cameron's "Big Society" agenda, which relied on voluntary organisations rather than state intervention.
05/01/2017
Kids devouring too much 'breakfast sugar' warning
Image captionThe app scans barcodes of thousands of food and drink products to reveal total sugar content
So Dr Tedstone is encouraging people to use the Be Food Smart App, which has been updated since its launch last year and lets you scan barcodes to find out the sugar content of your meal.
Alex Whittenbury, who tried it in January last year, commented on the BBC News Facebook page: "Having just scanned my daughter's cereal and juice choice for breakfast, it appears she has already consumed her daily allowance of sugar.
"It certainly gives us food for thought."
Source: Change4Life
Image captionMaking porridge and adding fruit is a healthy breakfast
Public Health England's top breakfast tips:
Add fruit – like sliced banana, raspberries or blueberries to plain cereals or porridge

Drink lower-fat milk – like semi-skimmed, 1% or fully skimmed (but not for children under 5) with cereal

Have wholegrain toast – instead of having white or a sugary cereal and use only a thin layer of toppings like jam

Master porridge oats – by mixing them with fruit and low fat (and low-sugar) yoghurt and leave it to soften overnight in the fridge

Bagels – go for lower-fat soft cheese
02/01/2017
Unmotivated to exercise? Dopamine could be to blame
Perhaps you have told yourself many times that, as of next week, you will start exercising more. Perhaps next month. Maybe even next year. For many of us, however, sticking to a disciplined program of physical exercise is one of the hardest New Year's resolutions. New research offers clues as to why finding the motivation to exercise can be so difficult.

New research links a deficit in dopamine to the lack of physical activity in mice.
The benefits of physical activity are well known. The Centers for Disease Control and Prevention (CDC) report that regular physical activity can reduce the risk of severe illnesses, such as type 2 diabetes, cancer, and cardiovascular disease.
Exercise can also improve one's overall physical and mental health, as well as increase longevity.
If you are looking to control your weight, the advantages of exercise are numerous. Not only has physical activity been shown to reduce metabolic syndrome – which means that it is good for regulating one's metabolism – but it also burns calories, and in combination with a healthful diet, exercise can help to maintain weight over a long period of time.
While many people are aware of the benefits of physical activity in theory, many of us find it particularly hard in practice to stay physically active. New research may help to explain why this is so.
Can dopamine explain lack of physical activity?
Lead researcher Alexxai V. Kravitz – of the Diabetes, Endocrinology, and Obesity Branch at the National Institute of Diabetes and Digestive and Kidney Diseases (NIDDK) – wondered why it is that obese animals have such a hard time doing physical activity.
The common perception is that animals, or people that are obese, are less physically active because they have to carry much more body weight. However, because Kravitz has a background in Parkinson's disease, he noticed similarities between obese mice and Parkinsonian mice while he was studying.
This triggered his hypothesis that perhaps something else could contribute to physical inactivity.
"We know that physical activity is linked to overall good health, but not much is known about why people or animals with obesity are less active. There is a common belief that obese animals don't move as much because carrying extra body weight is physically disabling. But our findings suggest that assumption does not explain the whole story."
Alexxai V. Kravitz
Kravitz hypothesized that a dysfunction in rodents' dopamine system might help to explain their lack of physical activity.
"Other studies have connected dopamine signaling defects to obesity, but most of them have looked at reward processing – how animals feel when they eat different foods. We looked at something simpler: dopamine is critical for movement, and obesity is associated with a lack of movement. Can problems with dopamine signaling alone explain the inactivity?"
Examining dopamine receptors in mice
Researchers set out to examine dopamine signaling in lean and obese mice, and the findings were published in the journal Cell Metabolism.
To do this, they fed a group of eight mice a normal diet, and they fed another group a high-fat diet for 18 weeks.
Starting from week 2, the mice on a high-fat diet started gaining significantly more weight than the lean ones. By week 4, obese mice spent less time moving, had fewer movements, and were slower when they did move, compared with lean mice.
Scientists examined whether changes in movement correlated with body weight gain, and they found that it did not. Interestingly, the mice on a high-fat diet moved less before they gained the majority of the weight, which suggests that the extra weight could not have been responsible for the reduced movement.
To identify the mechanisms behind physical inactivity, Kravitz and team quantified several aspects of dopamine signaling.
They found that the D-2 type receptor (D2R) binding, found in the striatum, was reduced in obese mice. This was consistent with previous research in rodents.
Then, scientists genetically removed D2Rs from the striatum of lean mice to determine if there was a causal link between D2Rs and inactivity. Researchers then placed the lean mice on a high-fat diet.
Surprisingly, they found that these mice did not gain more weight, despite their physical inactivity.
This suggests that although deficits in striatal D2R contribute to physical inactivity in obesity, such inactivity is more "a consequence than a cause of obesity," as the authors put it.
30/12/2016
'Middle age health crisis' warning
Image captionPenny Henderson said she "actually was not that honest" in the quiz
Another quiz participant, Penny Henderson, says her bad habits "slowly crept up" on her with how much she was drinking and that she was not really exercising.
"When I took the test, I actually was not that honest and I kind of lied… I think I just did not say exactly how much I was drinking and that was quite a wake up call.
"I realised if I was lying to myself then it must be bad," Ms Henderson told Breakfast.
After cutting down on alcohol, Ms Henderson said she had more time for things, was less stressed, coped with work better and, that family life was more pleasant.
"The thing is to keep it always achievable and then you can keep it up," she added.
Healthier ageing
The NHS has a number of apps and websites that can help you make healthy changes:
29/12/2016
Doctors confirm 200-year-old diagnosis
Image captionBony growths had spread to the patient's lungs
More than 200 years later, the samples fell under the gaze of Dr Christina Messiou.
She said: "Just looking at the specimens, the diagnosis of osteosarcoma came very quickly to me and John Hunter's write up was amazingly astute and fits with what we know about the behaviour of the disease.
"The large volumes of new bone formation and the appearance of the primary tumour are really characteristic of osteosarcoma."
She went to get a second opinion from her colleagues at the Royal Marsden in central London.
And in an out-of-hours session at the hospital they used modern day scanning technology to confirm the centuries old diagnosis.
Dr Messiou, whose speciality is sarcoma, told the BBC: "I think his diagnosis is really impressive and in fact his management of the patient followed similar principles to what we would have done in the modern day."
But she says the exciting stage of the research is still to come.
They are now going to compare more of Hunter's historical samples with contemporary tumours – both microscopically and genetically – to see if there are any differences.
Dr Messiou told the BBC: "It's a study of cancer evolution over 200 years and if we're honest we don't really know what we're going to find.
"But it would be interesting to see if we can link lifestyle risk factors with any differences that we see between historical and current cancers.
"So we've got big ambitions for the specimens."
Writing in the British Medical Journal, the Royal Marsden team apologised for delay in analysing the samples from 1786 and the obvious breach of cancer waiting times, but point out their hospital was not built until 1851.
28/12/2016
Multiple sclerosis drug 'a landmark'
27/12/2016
Hip pain may be 'hangover from evolution'
Image captionThe thigh bone changing over time
As species evolved from moving around on four legs to standing up on two, for example, researchers say the so-called neck of the thigh bone grew broader to support the extra weight.
And studies show that the thicker the neck of the thigh bone, the more likely it is that arthritis will develop.
Scientists say this is one potential reason why humans are susceptible to so much hip pain.
The team then used their data to hazard a guess at the shape of human bones 4,000 years in the future – although they admit there are many uncertainties in future times that could not be accounted for.
Dr Monk said: "What is interesting is if we try and move these trends forward, the shape that is coming has an even broader neck and we are trending to more and more arthritis."
In the shoulder, scientists found that a natural gap – which tendons and blood vessels normally pass through – got narrower over time.
The narrower space makes it more difficult for tendons to move and might help explain why some people experience pain when they reach overhead, say the scientists.
Image captionThe shape of the shoulder changing over time.
Using these predictions, the researchers suggest joint replacements of the future will have to be re-designed to accommodate the evolving shapes.
But they say it is not all bad news – the right physiotherapy and working on maintaining a good posture can help mitigate some of the downsides of our design.
20/12/2016
Blood test for hidden heart disease
Image captionA troponin test costs the NHS between £5 and £20
But putting some of these high-risk men on preventive treatment, such as cholesterol-lowering drugs called statins, lowered their risk as well as their troponin levels.
The 3,300 men in the study had high cholesterol but no history of heart disease.
The scientists now plan to do more research involving women too.
Prof David Newby, one of the authors of the study published in the Journal of the American College of Cardiology, said: "Troponin is almost like a barometer of heart health. If it creeps up, that's bad and your risk of heart problems increases. If it goes down, that's good.
"It also appears to predict who benefits from statins and opens a door to a whole new way of testing."
He said it could be a useful addition to measures like blood pressure readings and smoking status when building up a picture of someone's heart risk.
Prof Mills said: "Troponin testing will help doctors to identify apparently healthy individuals who have silent heart disease so we can target preventive treatments to those who are likely to benefit most."
Dr Tim Chico, a cardiologist from Sheffield University, said: "The problem with heart disease is that it remains very difficult to detect the early signs in people without symptoms, so these findings may provide a way to help identify people at risk.
"Nevertheless, the best way to treat heart disease is to prevent it in the first place, and this is why a healthy diet, regular physical activity, not smoking, and maintaining a healthy weight and blood pressure is so important."
19/12/2016
Six pharmaceutical firms accused of price-fixing
15/12/2016
Snapchat spectacles worn by UK surgeon while operating
14/12/2016
Brain tests predict children's futures
Image captionPolicy makers know the importance of early years education. But the new study suggests that they may have underestimated it.
Prof Terrie Moffitt, from Duke University in North Carolina in the US, who co-led the study, told BBC News: "The earlier children receive support the better.
"That is because if a child is sent off on the wrong foot at three and not ready for school they fall further and further behind in a snowball effect that makes them unprepared for adult life".
Prof Moffitt said nearly all the children who had low scores in cognitive assessments early on in life went on to fall through "society's cracks".
"We are able to predict who these high cost service users will be from very early in life.
"Our research suggests that these were people who, as very young children, never got the chance that the rest of us got. They did not have the help they needed to build the skills they need to keep up in this very complicated and fast-paced economy".
She said society should rethink their view of these people who are often condemned as "losers" and "dropouts" and instead offer more support.
Prof Moffitt conducted the study with her husband, Prof Avshalom Caspi, from King's College London. He said he hoped that the study would persuade governments to invest in those in most need early on in life.
"I hope what our study does is not feed into prejudice," he told BBC News. "I hope that our research will create the public compassion and political will to intervene with children and more importantly offer services to families of children so they can get a better start in life".
Nursery education
Successive governments have invested in expanding nursery education in the UK over the past 20 years. According to Josh Hillman, who is the director of education for the Nuffield Foundation, policy makers already realise the value of early years education.
"But this new research suggests that they may have underestimated its importance," he said.
"The issue now in the UK is to provide more high quality nursery provision and to consider targeting it to those disadvantaged groups that would benefit the most."
Participants were members of the Dunedin longitudinal study, an investigation of the health and behaviour of a representative group of the population of 1,037 people born between April 1972 and March 1973 in Dunedin, New Zealand.
As adults these people account for only 20% of the population – but they use 80% of public services in an analysis of a group of people in New Zealand whose lives were tracked for 40 years.
12/12/2016
Vitamins & its Myths 
06/12/2016
05/12/2016
HIV 'game-changer' now on NHS
Image captionHarry Dodd says taking Prep has still not become socially acceptable
Harry Dodd, 25, is one of about 500 homosexual men in England who are taking Prep as part of a trial called Proud.
He says: "I've seen the panic on the face of previous boyfriends when they are awaiting their [HIV test] results – it's a huge fear and it affects everything you do.
"To be able to have sex without having that fear hanging over you all the time is huge."
Harry says taking Prep has still not become socially acceptable.
"Too many people seem to think it will encourage a hedonistic lifestyle, but for me this is about saving lives," he says.
"People reacted with cynicism when the contraceptive pill for women was first introduced.
"For me, taking Prep has helped me to trust again, have relationships and build bridges and that shouldn't be taken away."
---
Dr Michael Brady, medical director of the Terrence Higgins Trust, said the evidence on Prep was "overwhelming" but the new trial could help understand how it will work in real life.
He added: "However, we do still need answers to many questions about the trial, in terms of how exactly the trial will work in practice, how those at risk will be able to access Prep, no matter where they live, and what will happen after the trial."
Deborah Gold, chief executive of the National Aids Trust, said: "We are absolutely delighted that following our wins in court, NHS England, working with Public Health England and local government, will be now making Prep available on a large scale, and quickly, to those who need it."
The NHS in Wales, Scotland and Northern Ireland have not yet made a decision on Prep.